Posted 2nd April 2009 | No Comments
Five-year underground track project to finish this year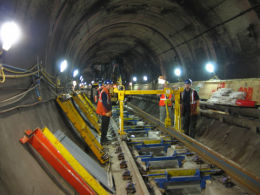 Concrete improvement: Engineers work on the Merseyrail track deep below Liverpool's city centre.
WORKING far below the streets of Liverpool, engineers will this Easter continue the £3.4 million track renewal scheme on the underground section of the Merseyrail route.

They are aiming to replace all curved sections of the loop line route beneath the city centre by the end of the year.

The work on the next phase of the five-year, £20 million project starts on Good Friday, 10 April, and continues until Tuesday 26 May.

Only a small amount of work was carried out on the line last year as it was Liverpool City of Culture Year and passenger demand was too great for a protracted close-down.

The renewal project is needed because the concrete on which the sleepers rest, and the rail, was showing signs of wear and in 2006 a train de-railed due to track movement.

The line from Chester and the Wirral was built in 1971 and dives under the River Mersey then takes a clockwise route, under the city centre before turning back towards Chester and the Wirral.

Engineers from Storey Rail who are carrying out the work will use concrete poured into a pipe through a ventilation shaft from cement trucks far above in Liverpool Centre car park. It is then placed in small rail-borne trucks which travel to sites where the slab track is being laid.

The process involves Australian-made Vipa base-plate rail fixings, which will be used to secure the track for a smoother and quieter ride on the four-mile circular loop line.

Rails are affixed using laser technology to ensure complete accuracy in the tight spaces.

Network Rail says that passengers using the lines into the city centre from Chester and the Wirral will benefit from better ride quality on the route and the work will also cut down on the maintenance required.

During the close-down, all services from Chester and the Wirral to Liverpool will terminate at James Street station, from where a bus shuttle will run to and from Lime Street station. Merseyrail's Northern Line and main line services will remain unaffected.

Simon Whitehorn, Network Rail's area manager, Mersey-side, said: "Track renewal means a need for less maintenance, will give passengers a better quality ride and reduce wear and tear on Merseyrail's trains."

A system called Intelligent Wheel Flange Lubrication designed to cut down on wheel flange and track wear has been fitted to one of Merseyrail's fleet of 59 refurbished Class 507 trains for a six-month trial. A control system using sensors allows the train-based lubrication system to detect right and left hand curves and apply lubricant accordingly.