Posted 6th January 2009 | 7 Comments
Heathrow rail hub, HS2 and third runway all being planned?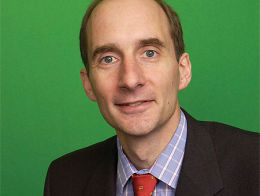 Transport Minister Andrew (Lord) Adonis.
THE British government appears to be paving the way for a possible 'triple whammy' announcement of plans for a new rail hub serving London's Heathrow Airport, plus a new high-speed rail line between London and the North — as well as a third runway at Heathrow.

Late last year, leaks indicated that the government is keen to go ahead with Heathrow's third runway despite strong opposition, including from some Cabinet ministers. Hilary Benn, the Environment Secretary, is understood to be leading opposition to the plans, together with climate change secretary Ed Miliband.

The Conservatives are also opposed and have said they would scrap the extra runway and go ahead with a new high-speed rail line to Birmingham, Manchester and Leeds instead.

But early in January, Transport Minister Andrew (Lord) Adonis told The Financial Times there was "a very strong case" for a new £20 billion high-speed line between London, Birmingham and Manchester. He indicated his thoughts were for a 200 mph (350 km/h) line to the north — 50 km/h faster than High Speed 1, Britain's only high-speed liner so far line, connecting London to the Channel Tunnel.

He later went on to tell The Sunday Times that the government was enthusiastic about proposals for a £4.5 billion station called the Heathrow Hub, which would involve the extension of High Speed 1 from London's St Pancras International station to the airport, as well as linking to a new high-speed line to the north, and would enable high-speed trains to go from Heathrow via the Channel Tunnel to Continental destinations.

The Heathrow rail hub, which was first proposed by Arup, the engineering consultancy, would also be served by First Great Western services, and by Crossrail when it is built — also by the proposed Airtrak project to extend Heathrow Express trains to Reading, via Staines, and providing a new rail link to Gatwick Airport.

Network Rail's £425 million modernization scheme for Reading station, announced last year, already includes provision for Airtrak services.

Arup's plans for the Hub envisage a 12-platform station built on the northern boundary of Heathrow, operating direct high-speed services to the Continent and cities such as Leeds, Manchester, Birmingham, Bristol and Cardiff. If it goes ahead, the project would strengthen the case for electrification — and possible upgrading — of the Great Western Main Line to South Wales and the West Country

Lord Adonis told The Sunday Times: "I think that [the Hub] is an attractive idea. It's vital that we have an integrated approach to planning new rail capacity and any new airport capacity that's also required."

Since his appointment last October, Adonis has been put in charge of a National Networks Strategy Group, which is looking at all aspects or road, rail and airport infrastructure.

"The key issue on the hub is whether the north-south line would also serve Heathrow and therefore offer much better interchange facilities at Heathrow and the capacity to get to and from Heathrow much more rapidly and conveniently from other parts of the country," he said.

In a strong hint that all three projects — a 200mph north-south line, the Heathrow Hub, and a third runway – could be developed together, he said: "It makes good sense to plan improvements to Heathrow and the rail system together."

Building a separate line, dedicated to trains running at 200 mph, would bring Birmingham within 45 minutes and Manchester within 75 minutes or so of London.

It would also mean that passengers from Birmingham could reach Paris in under three hours, and from Manchester the city-centre to city-centre journey would be less than four hours.

According to The Financial Times, rail is at the heart of Lord Adonis's network strategy, notably the high-speed line to replace capacity on the West Coast Main Line, forecast to be at saturation point within 15 years in spite of its recent modernisation.

"There are significant discussions that have to take place, particularly on the funding side of things," he says. "Do I believe there is a strong case for proceeding with a north-south high-speed line? Yes, I do. It is not yet a conclusive case, but it is certainly strong."

Lord Adonis expects business and local authorities to help pay for the line. Crossrail has provided a template, with BAA and companies in the City of London and Canary Wharf committing more than £700m towards the east-west link. "I think you'd be looking to a partnership funding model, a contribution not just from government but from agencies and businesses that would benefit," he said.

Lord Adonis said new laws proposed by the Government to streamline the planning process could allow a new high-speed line to be completed within 15 years, just as forecasts suggest capacity on the recently-modernised West Coast Main Line will be exhausted.

To minimise disruption, Lord Adonis said new tracks could be laid alongside existing rail lines or motorways. "The idea that it has to be a line that goes through virgin territory isn't necessarily right," he said.

Greengauge 21, headed by former Strategic Rail Authority director Jim Steer, has already proposed the first stage of a new high-speed line should follow the Chiltern Line and M40 Motorway towards Birmingham — with a spur into Birmingham city centre via Solihull — and then follow the M42 Motorway past Birmingham International Airport towards Tamworth to connect with the West Coast Main Line where it has just been expanded from two to four tracks.

Network Rail last year set up a special study into the need for extra track capacity across the British rail network, and to explore whether high-speed operation is justified if new tracks are needed. The study is looking at five corridors — the West Coast Main Line, the East Coast Main Line, England-Scotland, the Great Western Main Line and Trans-Pennine routes. The study is due to be completed later in 2009.
Reader Comments:
Views expressed in submitted comments are that of the author, and not necessarily shared by Railnews.
Heathrow - Birmingham International seems inevitible to me. The rest does not.

"a 200mph north-south line, the Heathrow Hub, and a third runway – could be developed together" If we have the first 2, do we really need the third runway, as domestic air travel would decline with the other 2. Why not use Birmingham airport as north terminal for Heathrow as would only be 45 minutes away, as the Tories have suggested. Travelers in Midlands and the north would not need to drive down to Heathrow either.

Will air travel really expand at the rates predicted in the future with the Carbon issue and with a future Oil price of $100 a barrel that Canadian oil sands needs to make it economic. A high speed train can use Nuclear or Wind energy, that will never be true of a plane.

I would think about every single track from St. Pancras to Heathrow as overground service through in weakest bridge and old tunnels of West Coast mainline, next thing Willesden Depot down through Acton Main Line to the west to Heathrow Rail Hub Station. Can you TEST them out? And I think rather costly in scrap plan get through estimated every funding has been found somewhere on the marker points, and where this stick routes goes joined in coast distances and needs get More Spaces and Safeguarding ion. That would not be necessary Engineering Works was expected will be Delays as soon as possible to get through in High Speed Railways in the Futures must all this to be done.

What about re-instatement of the former Great Central rail line north up the spine of England with spurs or links as required for other major conurbations? The track bed has deliberately been kept clear of building works to enable this to happen.

Who is going to pay for this? BAA is bust, British banks aren't lending (where they aren't bust too) and the government is already mortgaged up to the hilt?

Anyone who lives locally also knows that the roads around the airport are at a standstill and a lot of this is down to airport staff and commercial traffic not tourists. There is nowhere else for the traffic to go, or extra staff to live, and air pollution is already exceeding permitted EU levels.





This all sounds great
But going on previous reputation all you will get is a high speed line to Heathrow from St Pancras.
Everything else will fold Because of cost.

The high speed rail infrastructure is sustainable in the aftermath of the shortly to arrive peak oil crisis, the new runway at Heathrow is not. The aviation industry, domestic and international, needs abundant cheap fuel to operate and that, sadly, will be in ever declining supplies over the next decade.