Posted 2nd July 2008 | 3 Comments
Take-Off For Airport Station Plans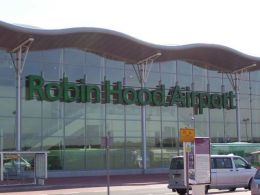 The approved plans should increase use of public transport to Robin Hood Airport and the surrounding region.
PLANS for a new two-platform station on the Doncaster to Lincoln line to serve Robin Hood Airport, submitted by the Peel Airports Group, have been approved by Doncaster Council, and discussions on feasibility and design details of the proposal are now taking place with Network Rail and train operators.

Currently, the business case and timetable are being studied to assess possibilities of some existing services calling at the new station, but dedicated airport links remain a longer term aspiration.

In partnership with regional development authority Yorkshire Forward, Doncaster Council is committed to developing the airport during the coming years, and plans include a 250-space car park as part of the development as well as a reserved route for a future rail link direct to the new airport terminal. Construction could begin in 2012.

Robin Hood Airport's environment manager Clare Wilson said: "Some seven per cent of our passengers use public transport to access the airport which opened just over three years ago. We are confident that future enhancement will increase that usage further and improve access across the region."
Reader Comments:
Views expressed in submitted comments are that of the author, and not necessarily shared by Railnews.
The expense of building things in this country is the other side of the planning coin. If the planning system is going to exhaustively consider all possible views and interests, it will be slow and expensive. Either way, it's never going to be popular.

Anyway, a station is only half the problem. Unless it has fast, regular, reliable direct trains from Sheffield and beyond, it won't make much difference to the airport's accessibility. At the moment Manchester airport is much easier to get to.

I would have thought they would be better opening a station on the East Coast Main Line, which runs across the other end of the site.

Today, to have a new station built is a hard and gruelling process - the chances of fruition are almost nil -without millions of pounds of wasted "feasibility studies". Schemes are grandiose (multi-million pounds). The days when a neat and useful local station could be built for £88,000 (see Crosflats and other stations of the 1980's) are long gone. Either now they are over engineered or Network rail is ripping off the local authorities. Very sad. It is a disgrace. In fact one of the most scandalous changes under privatisation/restructing of the 1990's. If you want a station now, you have little chance.