Posted 3rd June 2008 | No Comments
Pendolinos to be lengthened by 2012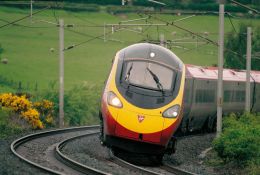 Virgin's Pendolino
EXTRA carriages should be added to most Virgin West Coast Pendolinos by the end of 2012.

After months of speculation and apparent in-fighting between Virgin Trains and the Government, the Department for Transport has made an agreement with manufacturers Alstom to begin the production process for an extra 106 – possibly increasing to 148 – tilting Pendolino vehicles.

DfT has also shortlisted two companies – offshoots of Virgin and GoVia, both of which run train services on the West Coast route – to bid for the role as 'Pendolino lengthening service provider' – in other words, to manage the project.

The extra carriages will be used to create four new 11-car trains (one of which will replace the set written off after the Grayrigg derailment last year) and to lengthen 31 of the existing 52 trains from nine to 11 cars. The vehicles will be built and fitted out in Italy and will be in full service by December 2012.

There is also an option for a further 42 carriages to lengthen the remaining 21 nine-car trains to 11 cars by early 2013. This option can be exercised up to 2010 if demand is proven after Virgin's enhanced, high-frequency services start in December this year.

The Service Provider will support the DfT throughout the design finalisation, manufacture, delivery, testing and commissioning of the new vehicles. The contract will last until the end of the current West Coast franchise on 31 March 2012, after which the support will be provided by the new franchisee.

The bidders for the role, which will receive an Invitation to Tender shortly, are Govia Transportation Projects Ltd and Virgin Rail Projects Ltd.

The Govia company is part of the group that runs the London Midland franchise which operates both local and regional services from Euston to Birmingham, Crewe and Liverpool. Virgin Rail Projects is a sister company of Virgin Trains which currently holds the West Coast franchise, most of its operation using the existing Pendolino fleet.

In recent months there has been acrimony between Virgin and the Government over how the extra vehicles were to be financed. The Government rejected an offer from the operator to fund the extra vehicles itself in return for an extended franchise.