Posted 29th August 2008 | 4 Comments
Chiltern Railways plan to make Bicester well connected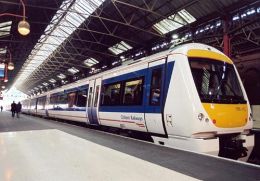 Some of the trains on the suggested route would also serve Islip
CHILTERN Railways has drawn up a £200 million plan for a new half-hourly service between London Marylebone and Oxford via an improved and expanded station at Bicester Town.

A development of an idea first suggested by the company several years ago, the scheme would complement the East-West Rail Consortium's proposals to upgrade the line between Oxford and Bicester Town and reopen the route from Bicester to Milton Keynes.

Bicester Town would be linked to a junction with the Chiltern line by a new quarter-mile-long west to south connection and a new station built alongside the Water Eaton park-and-ride site on the outskirts of Kidlington.

Installation of double track and a new signalling system between Oxford and Bicester would enable more than 30 daily trains to run each way, compared to seven currently, and journey times to be cut from 26 to 14 minutes. Some trains would also serve Islip, and the new link would give Oxford direct services to Wembley Central and re-connect High Wycombe to the city for the for the first time since 1964.

Chiltern Railways chairman Adrian Shooter said: "Approval of the scheme would make Bicester one of the best connected towns in the country with four direct trains to London every hour. We have put in a lot of work to develop this scheme, and with Government approval work could start within two years, and be ready for the London Olympics in 2012."
Reader Comments:
Views expressed in submitted comments are that of the author, and not necessarily shared by Railnews.
Superb idea about time this line was used to its full potential.

The increased rail service generated by his scheme could raise the possibility of a future M40/A41 park and ride station between Bicester and Islip, which would be a good thing

The part of the sentence which states the new link would give Oxford direct services to Wembley Central appears to be an error by someone wihout rail knowledge. Chiltern railways of course only serve Wembley stadium station.
A connection with Wembley central station could be possible only if the existing station was moved a couple of hundred yards north bound and additional new platforms laid for interchange on the Chiltern Line. It is unlikely due to cost and probably limited numbers using such as interchange that such a scheme would get the go ahead

A very good idea - typical of Alan Shooter. I do hope that the DfT do not pour cold water on his ideas as is normal. The sooner we start this scheme the better.