Posted 26th July 2023 | 3 Comments
Ticket office closures consultation extended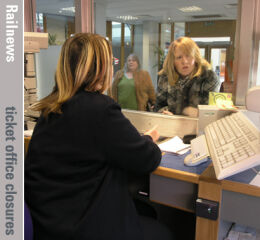 The Rail Delivery Group has confirmed reports this morning that the consultation period for proposed ticket office closures has been extended from today until 1 September.
The RDG said train operators had been 'listening to feedback and hope that more people will have the opportunity to have their say in to changes to how tickets are sold at stations'.
Chief executive Jacqueline Starr said: 'Train companies have listened to feedback, and are extending the time available to respond to the consultation on changes to how tickets are sold at stations. Operators are keen to give more people a chance to give their views on the proposals, so they can bring the railway up to date with dramatic shifts in customer buying habits, while supporting all its customers as the railway evolves and adapts.
'While local plans vary, the aim of the proposals is to bring staff out from behind ticket office windows to offer more help for customers buying tickets and navigating stations. At the same time ticket vending machines are being upgraded to offer a wider range of fares, and we have committed that no customer will have to go out of their way to buy a ticket.'
Transport Focus chief executive Anthony Smith added: 'Transport Focus and London TravelWatch have received more than 170,000 comments already. This feedback is currently being logged and reviewed alongside individual train operator proposals.

'It is important that a diverse range of views from all parts of the community are heard in this consultation. New comments received will be read, considered and used in discussions with train companies in the coming weeks.'

A group of Mayors from the city regions and other areas have been mounting a legal challenge to the length of the original 21-day consultation period, which would have expired at midnight tonight.
Labour shadow transport secretary Louise Haigh said: 'This delay is proof that the ticket office closure process has been a sham from the start. The Tories tried to ignore passenger and staff concerns and railroad through these huge changes to our rail network.
'They must halt this chaotic consultation process and come clean about their plans for the future of our railways.'
Reader Comments:
Views expressed in submitted comments are that of the author, and not necessarily shared by Railnews.
Because of their utmost necessity to the disabled, aged, vulnerable and general public Rail Ticket Offices should not be closed. The argument that more staff, as a result of closures, will be available on platforms/concourses does not wash. These folk will not have anywhere near the same level of skills to support people with their ticket/travel enquiries. Streamlining of ticket offices with those in larger stations especially or at busy am/pm times remaining open should be an alternative to wholesale closures

I hear many valid arguments for retaining these offices for Senior Citizens , Handicapped and the less tech savvy persons.
As a tech savy once regular rail user the availability of a ticket office during Train disruptions and cancellations were literally a lifeline, not only to me, but in particular women. On several occasions I witnessed the sheer panic of ! especially young women ! as due to delays. They had missed their last connecting train and were stranded.
Ticket Office Must be retained.