Posted 25th July 2022 | 4 Comments
Railways brace for two strikes this week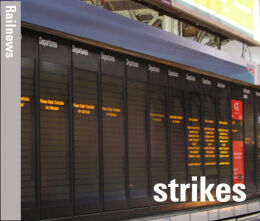 The RMT has confirmed that the first of this week's national rail strikes is going ahead as planned on Wednesday. ASLEF drivers at eight Train Operating Companies are set to strike on Saturday.
More than 40,000 staff at 14 train operating companies and Network Rail will walk out for 24 hours on 27 July in the long-running dispute about pay, jobs and conditions.TSSA staff at Avanti West Coast will also stage their own stoppage.
RMT general secretary Mick Lynch said: 'Our members are more determined than ever to secure a decent pay rise, job security and good working conditions. Network Rail have not made any improvement on their previous pay offer and the train companies have not offered us anything new. In fact Network Rail have upped the ante, threatening to impose compulsory redundancies and unsafe 50 per cent cuts to maintenance work if we did not withdraw our planned strike action.
'The train operating companies have put driver-only operations on the table along with ransacking our members' terms and conditions. RMT will continue to negotiate in good faith but we will not be bullied or cajoled by anyone. The government need to stop their interference in this dispute so the rail employers can come to a negotiated settlement with us.'
Network Rail responded by accusing the union of 'walking away' from talks. The latest offer of 8 per cent over two years with a guarantee of no compulsory redundancies was rejected.
Lead negotiator Tim Shoveller said: 'Once again the RMT executive has walked away from ongoing and constructive talks that could have avoided next week's strike and it's now abundantly clear that their political campaign is taking precedence over representing their members' interests.'
The disruption is likely to spill over into Thursday morning because many trains will be in the wrong place.
The Department for Transport said it was a 'cynically timed attempt to derail the start of the Commonwealth Games'.
It continued: 'The rail industry has to modernise and be brought into the 21st century for the benefit of passengers and staff. We're extremely disappointed to see that, instead of staying at the table, RMT executives have chosen to walk away once more. We continue to encourage RMT to do the right thing by their members and passengers alike and call off the strikes.'
Looking ahead to Saturday, ASLEF general secretary Mick Whelan said: 'We don't want to go on strike – strikes are the result of a failure of negotiation – and this union, since I was elected GS in 2011, has only ever been on strike, until this year, for a handful of days.
'We don't want to inconvenience passengers – not least because our friends and families use public transport, too, and we believe in building trust in the railways in Britain – and we don't want to lose money by going on strike.
'But we've been forced into this position by the train companies, driven by the Tory government. The drivers at the companies where we are striking have had a real terms pay cut over the last three years – since April 2019.
'And these companies are offering us nothing, saying their hands have been tied by the government.'
Reader Comments:
Views expressed in submitted comments are that of the author, and not necessarily shared by Railnews.
Ok, to Steve from Crewe... How about tapering the pay rises, so the limited money available [in an industry hammered by cv19] only benefits those in rail with incomes below the median, and benefits those at the very bottom the most. Surely our union comrades would be right behind that? Anything else has to be justified by finally binning 1930s working practices, like "ding ding" train dispatch, and the list of farcical restrictive practices at Network Rail, set out so well by Andrew Haines.

Shapps and Truss especially want a fight with the unions, worsening the current situation and escalating this across the wider UK workforce sectors - pathetic Thatcher loving Tories dragging us back to the 1980s further ruining an economy they've already wrecked.

With many RMT rail workers earning just £19K to £22K in Manchester (the previous poster's city) the cost of living is running away from wages. Anyone who thinks a TORY government would resolve such a strike needs their head examined. The average wage for RMT members in the north at the TOCs is £27,000.

Roll on the general election 2024.

Both Sunak and Truss are committed to banning rail strikes, or at least requiring "minimum service levels", so this is the "last hurrah" of RMT/ASLEF. Anyone who thinks a Starmer government would reverse such a move needs their head examined.
Have Your Say