Posted 13th July 2022 | 7 Comments
First glimpse of Avanti West Coast Class 805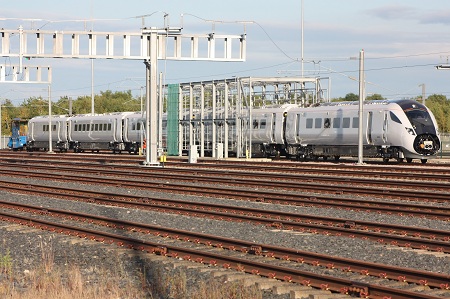 (James Garthwaite)
---
The first Class 805 bi-mode set for Avanti West Coast has arrived from Hitachi, initially for static tests.
There will be thirteen 805s for the London–Holyhead route, and they will be able to use the overhead power south of Crewe.
They will replace Class 221 diesel sets, which the former operator Virgin Trains dubbed 'Super Voyagers' when they were built by Bombardier in Belgium just over two decades ago. Unlike the 221s the 805s do not have a tilting mechanism, because advances in train and track design over the past 20 years have meant that new non-tilting trains on the curving WCML will still be able to run at up to 125mph/200km/h.
The trains are leased from Rock Rail West Coast, a joint venture between Rock Rail and Standard Life Aberdeen, and will be maintained by Alstom and Hitachi staff at Oxley depot near Wolverhampton.
The first example to arrive lacks interior fittings, but dynamic testing is expected in September, followed by main line tests by the end of the year. The first of the 805s are expected to start replacing Avanti's Class 221s in the spring.
Meanwhile, 10 seven-car electric Class 807 units are also on order, which will complete the replacement of the 20 Class 221s on Avanti West Coast.
Reader Comments:
Views expressed in submitted comments are that of the author, and not necessarily shared by Railnews.
Would of been ideal for Avanti West Coast to of order the Class 805 Bi-Mode instead for London Euston-Holyhead, Shrewsbury, Chester and Llandudno Junction. With the Class 390 Pendolino to continue operating to Birmingham New Street, Crewe, Warrington Bank Quay, Carlisle, Manchester Piccadilly, Liverpool Lime Street, Glasgow Central and Blackpool North.

"...Unlike the 221s the 805s do not have a tilting mechanism, because advances in train and track design over the past 20 years".

What is this improvement you speak of ? I don't believe you.
Just that the WCML is 125mph max, because the promised 140mph running was never delivered by Railtrack / Network rail (people conveniently forgetting WCML was supposed to be 140kph by 2005 for Pendolinos to run on ?).
[A combination of changes to cant, along with faster stopping passenger trains and freight which are more tolerant of the cant adjustments. The 805s have better acceleration, so that they can also make better use of straight sections. The result is that they will come very close to matching Class 221/390 timings. It speaks for itself: they have a top speed of 125mph/200km/h, and no tilting mechanism. Incidentally 'Robert', this is the last time we will be responding to you, unless you stop hiding behind a silly pseudonym. We have plenty of honest (and more polite) correspondents from whom we would prefer to hear. I have published your message in full only because other readers might have been wondering what the improvements were. Further messages from your 'Bob.ajobb' email address will not be considered.--Ed.]

Little 5-car trains have no place on the West Coast Mainline.
[They are replacing five-car Class 221 Super Voyagers.--Ed.]

Up until the COVID crisis, the 221's were coupled as two- unit trains,as far as Chester, one unit going on to North Wales.

Is the intention to copy that baic pattern ?

As for Euston- B'ham- Glasgow, is 5 coaches per two hours sufficient ?

The Class 221s are currently used for London to Glasgow via Birmingham services, which are entirely under the wires; I believe the 807s are to replace the 221s on that route, while the 805s are for the Chester/Llandudno/Holyhead service.

Also: 13 bimodes and 10 electrics, not the other way around.

So 20 class 221s are to be replaced by 10 bi-mode 805s plus 13 electric class 807s. On the face of it, an increase in capacity. But in the short term at least, only the 805s will be able to operate between Crewe, Chester and Holyhead, so is the frequency of the through service to London due to be halved? Or will Transport for Wales provide more connections through to Bangor/Holyhead at Crewe or Warrington?