Posted 25th January 2022 | No Comments
Transport minister steps down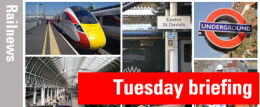 Transport minister steps down
Scottish transport minister Graeme Dey has resigned from the Holyrood government. He said the cause of his departure is 'health-related', and that he was unable to give his responsibility 'everything it rightly requires and deserves'. First Minister Nicola Sturgeon said Mr Dey had been 'highly effective' and that he would be welcome to return. Mr Dey, 59, is MSP for Angus South and had been transport minister since 2021. He has been replaced by former culture minister Jenny Gilruth.
Network Rail overcomes Market Harborough challenges
Improvements to Market Harborough station are going ahead, after Network Rail overcame some 'early challenges'. The upgrade will mean new toilets with baby changing equipment and a waiting room with seats and a drinking fountain. The work should be complete by the end of May.
Audio help for passengers with limited vision
Toilets at many Northern stations are being fitted with a new audio device which, when triggered with a wave of the hand, describes the room and where its fittings are. The equipment, called RoomMate®, is being installed at 44 stations. The scheme is part of Northern's accessibility fund, and a total of 13 projects have been granted up to £50,000 each for various improvements such as handrails, ramps and automatic doors.
Cotswolds lines boosted by operators' grants
Projects designed to promote Gloucestershire as a 'Great Rail Experience' have received £30,000 from both Great Western Railway and CrossCountry. Gloucestershire Community Rail Partnership is leading the work to provide bookable 'Taste for Travel' trails, which are designed to encourage visitors to see rail travel as part of the adventure before they leave the station to explore nearby attractions and sample the products of local businesses.