Posted 19th January 2022 | 6 Comments
New station proposed for National Arboretum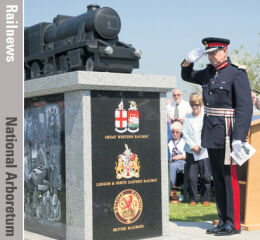 IT has been revealed that a new station is being proposed at Alrewas between Lichfield Trent Valley high level and Wichnor Junction, which is on the line linking Tamworth and Burton-on-Trent. The original station serving the village of Alrewas was closed in 1965, although the line remained open.
A new Alrewas station would serve the National Memorial Arboretum, which is visited by more than 300,000 people a year and stages 250 events, including services of remembrance. It includes a Railway Industry Memorial, which was unveiled in May 2012, and also a memorial commemorating the thousands of prisoners of war who were forced to work on the infamous Burma Railway in the Second World War.
Talks took place between the MP for Lichfield Michael Fabricant and new rail minister Wendy Morton at the end of last week. The executive director of the West Midlands Rail Executive Malcolm Holmes joined the discussion, along with the managing director of the National Memorial Arboretum, Philippa Rawlinson, who said: 'Every year we are proud to welcome hundreds of thousands of visitors from the Midlands, other UK regions and further afield, all of them eager to pay tribute to members of the Armed Forces, emergency services and voluntary groups.'
Mr Holmes said: 'There is a very strong case to open this line, not least for the thousands of visitors who go to the National Memorial Arboretum every week. We at WMRE are developing a plan through which we could establish a basic service relatively quickly and scale up over time.'
Wendy Morton said: 'It's been great to be hear and study this proposal in detail. Clearly it has a huge amount of support not only from Michael Fabricant, but other MPs in the area, the National Memorial Arboretum, the County, the Parish of Alrewas and the Mayor of the West Midlands, Andy Street as it will link with the Cross-City line into Birmingham and beyond. Today's visit has put this scheme very much on my radar for the future.'
Michael Fabricant added: 'I was delighted that Wendy was able to accept my invitation to see the scheme. For relatively little cost, the existing line and signalling can be upgraded to provide a regular passenger service which means that the 500,000 or so visitors expected each year at the Arboretum will be able to access it by public transport from anywhere in the UK and relieve pressure on the road system.'
Reader Comments:
Views expressed in submitted comments are that of the author, and not necessarily shared by Railnews.
Post-pandemic TT is currently difficult to predict but assuming a 10 minute interval Birmingham service every third Cross City train turns back at Four Oaks it leaves a gap of about 30 minutes with no platform occupation at Lichfield City. It would be possible to run a service from Burton to Lichfield City
without additional track or platforms by providing bi-directional signalling on one line between City and TV..

Nice idea, obviously depends on cost/benefit. Local catchment population about 7,000, so not huge. Assume 10% of the arboretum visitors use rail, and an hourly service, then about 15 pax per train on average.

Operationally - looks like space for a platform at LTV. Operating through to Derby could take over both the Willington and Peartree stops from the longer distance XC service from Cardiff to Nott and provide a more regular service Burton to Derby. Would also be a useful link from Derby/Burton - Lichfield - and on to Sutton Coldfield.

Not sure how a low cost plan works for this. Would it be a DMU shuttle from Lichfield or Burton? Both have issues as no bay to park it in. You cant extend the Birmingham - Lichfield service as it is not wired passed Lichfield.

A Derby - Birmingham service duplicates Derby - Crewe and Derby - Tamworth connections.

It only seems to make sense if the line is electrified from Derby to Lichfield to to allow Bi-mode Cross Country services via Lichfield instead of Tamworth when the MML is wired. This however is not a low cost option.

A nice idea if part of a coherent national strategy but the chances of getting that from this government are nil. Sounds like yet another sound bite to disguise the railway shambles the Treasury is unleashing as we speak.

I think thatís a wonderful idea.

This is welcome news if it happens but one correction - Alrewas is on the line from Lichfield to Burton, not Tamworth to Burton.
[We intended to say that Wichnor Junction is on the Tamworth-Burton line, not Alrewas, but the wording was perhaps a little ambiguous. We have amended it.--Ed.]