Posted 13th January 2022 | 2 Comments
RAIB says wagon maintenance must improve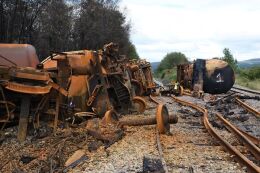 THE derailment of a freight train in Wales which triggered a major environmental emergency was caused by a wagon wheelset becoming locked, said the Rail Accident Investigation Branch.
The accident happened at Llangennech in Carmarthenshire about an hour before midnight on 26 August 2020. The train consisted of 25 tank wagons and ten were derailed. Around 446,000 litres of fuel escaped into the surrounding area, which included cockle beds, natural tidal mud flats and wetlands.
The report said the locked wheels had probably been caused by a defect in the braking system which it attributed to 'deficiencies in the design and maintenance of components'.
The RAIB has made nine recommendations. Chief inspector Simon French said: 'Thankfully no one was hurt, but people were evacuated from their homes and the damage, both to the environment and to people's livelihoods, will take years to put right. The accident also closed the line for more than six months. The rail industry's approach to the safe maintenance of freight wagons needs to improve.'
He added: 'I have been struck by the extent to which the safe condition of freight wagons is critically dependent on people being given the tools and training they need to do a difficult job, very often in dark, wet and cold conditions. So, I urge freight operators and maintainers to think carefully about the people who do the hands-on work, and the things that could be done to develop the capability of the work force.'
Reader Comments:
Views expressed in submitted comments are that of the author, and not necessarily shared by Railnews.
The DfT cracked down on sub-standard lorries, who is responsible for railway wagons?
[ORR advised by RSSB. --Ed.]

I have always thought that the way Rail Wagons are covered in Graffiti is indicative of how they are regarded. People like Waitrose and Stobart would never send any lorry out on the Motorway with any dirt or graffiti on it. It would just scream of bad attitudes and lack of maintenance back at the Depot. We no longer send Passenger Trains out with dirty toilets, litter inside or 'paintings and doodles' on the outside, as British Rail did. Wagons need the same attention.