Posted 12th January 2022 | 4 Comments
RMT pledges to oppose ScotRail ticket office cuts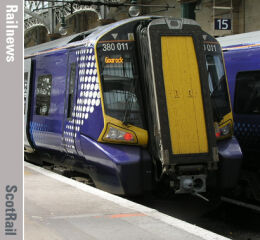 A CONSULTATION run by Transport Focus which proposes reductions in ticket office hours is being launched today on behalf of ScotRail. It has triggered an angry reaction from the RMT. ScotRail said ticket office usage has fallen by more than half, and the drop has been increased by the Covid pandemic.
Head of customer operations Phil Campbell said: 'There has been no real review of our ticket office opening hours for 30 years, and it is important we keep up with the changing habits of customers who no longer rely on purchasing tickets in that way.'
The RMT said it was 'wholly opposed' to the cuts, which include the complete closure of the offices at Cartsdyke, Clydebank and Woodhall.
The union's general secretary Mick Lynch said: 'Cuts to ticket office hours will do nothing to restore passenger confidence in Scotland's sustainable rail network which has a central role to play in delivering modal shift away from high carbon transport. These proposals affect nearly all of the ticket offices in Scotland and will undoubtedly worsen passenger service and accessibility as well as turning many of our stations into a mugger's paradise.'
The consultation will run for 21 days.
Reader Comments:
Views expressed in submitted comments are that of the author, and not necessarily shared by Railnews.
Same pro-management people posting same things on every article.

'luddite' cut - paste 'luddite' cut - paste.....

Staffless stations, no staff on board... sure the driver can do the ramp and take wheelchair users to their taxi outside??? Err... no. That kind of cluelessness goes on in the south and bits of Scotland - but they chose that rubbish and they can keep it.

For the rest of Britain, keep those brainless home-counties ideas away from the adults railway.

The Luddites at the RMT continue to live in the past. No surprise there then.

No idea, when I last used a ticket office... I do all on-line, or using a ticket machine! That's the future...