Posted 17th December 2021 | 2 Comments
DfT confirms 3.8% rail fares increase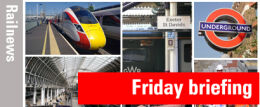 DfT confirms 3.8% rail fares increase: 'far from fair', says CBT
The DfT has confirmed that regulated rail fares will rise by 3.8 per cent in March, saying the the increase, based on last July's RPI, had been 'capped to prevent high increases for passengers', and that 1 per cent will not be added to the inflation rate benchmark. Rail minister Chris Heaton-Harris said: 'Capping rail fares in line with inflation while tying it to the July RPI strikes a fair balance, ensuring we can continue to invest record amounts into a more modern, reliable railway, ease the burden on taxpayers and protect passengers from the highest RPI in years. Delaying the changes until March 2022 offers people the chance to save money by renewing their fares at last year's price. That includes the 100,000 people who are already making savings with cheaper and more convenient flexible season tickets. We're driving ahead with the reforms in our Plan for Rail, creating a more passenger-focused railway that delivers a truly first-class service for everyone.'
The Campaign for Better Transport is critical. Its chief executive Paul Tuohy said: 'This fare rise is far from fair. Rail fares should have been frozen to match the fuel duty freeze for car drivers. If the government is serious about shrinking transport's carbon footprint it should make rail the affordable choice.'
Railway Delivery Group director general Andy Bagnall said: 'The government's decision to hold fares down in line with last July's inflation is welcome compared to last year's above inflation increase, and the rate of inflation right now. It is important that fares are set at a level that will encourage more people to travel by train in the future, helping to support a clean and fair recovery from the pandemic. We know the railway must not take more than its fair share from the taxpayer, which is why the industry is working to create a financially sustainable and passenger-focused service.'
TfL warns of more Underground disruption
Serious disruption is expected on five Underground lines tomorrow, said Transport for London, as the dispute with the RMT continues. There will also be no Night Tube services on the Central and Victoria Lines again this weekend, although Overground trains will run throughout the night between Highbury & Islington and New Cross Gate. The dispute concerns rosters for drivers, and TfL has repeated its assurance that there will be no job losses. The RMT has responded by accusing TfL of using the pandemic as an excuse to 'bully' its members.
Reader Comments:
Views expressed in submitted comments are that of the author, and not necessarily shared by Railnews.
Someone has to pay somehow to keep the Railways running. It is either the taxpayer or the passenger. You could cut the costs of running the Railway by closing lines, cutting services, or more efficiency like cutting staff. Putting up the cost of motoring probably won't make more people use trains, although it might make them use buses more. None of the options are 'nice' and will offend someone.