Posted 30th November 2021 | 2 Comments
Union warning as facemasks become compulsory again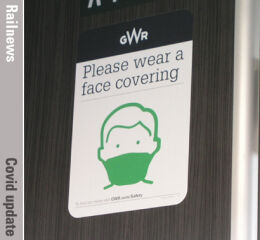 Facemasks must be worn on all public transport in Britain from this morning, as the first step towards defending the population from the new omicron variant of Covid-19, which has triggered warnings from the world health community.
Masks were already compulsory on Transport for London trains, trams and buses as well as Manchester Metrolink and trains in Scotland and Wales, but the rule has now been extended to National Rail services in England as well as buses, shops and similar public places.
Health secretary Sajid Javid told the House of Commons: 'Just as the vaccination programme has shifted the odds in our favour, a worrying new variant has always had the opportunity to shift them back. Last week, I was alerted to what is now known as the omicron variant, which has now been designated a variant of concern by the World Health Organisation. We are learning more about this new variant all the time, but the latest indication is that it spreads very rapidly.'
The RMT, meanwhile, fears that enforcing the new rule could put its members at risk. The union's general secretary Mick Lynch said: 'Life on the front line of Britain's transport services has got harder and more dangerous for the keyworkers who have kept the country moving during the Covid crisis. There is now a real risk that an already dangerous situation at the sharp end could get far worse from this morning.
'RMT is advising members to make sure that they take action to protect their personal safety at all times. We support the wearing of masks but there are major issues about enforcement and we will not leave our members exposed on the front line at huge personal risk. The Government must make the resources available to properly police this reintroduction of compulsory face coverings.'
Reader Comments:
Views expressed in submitted comments are that of the author, and not necessarily shared by Railnews.
Masks should have been, be mandatory anywhere outside of your own home until the covid is totally eradicated. These half measures do nothing but perpetuate the virus and the longer it exists in the general population constantly creating more and more variants.