Posted 22nd November 2021 | 4 Comments
Public services begin on Dartmoor Line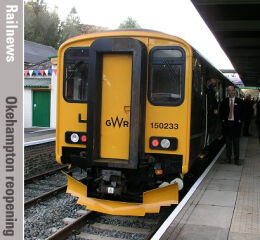 THE first daily trains to carry the public between Exeter and Okehampton for almost 50 years started running on Saturday. Invited guests had been given rides on a shuttle service between Okehampton and the former station at Bow on the previous Wednesday. Special summer Sunday services had been operated since 1997, but £40.5 million was invested this year in upgrading 18km of track, strengthening structures and improving drainage. Trains will now run every two hours throughout the week, including Sundays.
The Exeter-Okehampton line was not included in the 1963 Beeching report, although the rest of the route from Okehampton onwards to Plymouth was recommended for closure. Even so, Okehampton services only continued until British Rail withdrew them in 1972.
The new service is set to be increased to an hourly frequency in May, and the reopening has boosted the campaign to restore the rest of the route from Okehampton to Tavistock and Bere Alston in the Tamar Valley near Plymouth.
GWR managing director Mark Hopwood paid tribute to the people who had supported reopening for many years. He said: 'This has been a key aspiration for the community and the rail industry for some time and today is a significant day for everyone who has been involved. The support and advocacy of the local campaigners over the years has helped deliver a fantastic new service, which we hope will grow from strength to strength.'
Reader Comments:
Views expressed in submitted comments are that of the author, and not necessarily shared by Railnews.
A few more miles of restoration (Bere Alston - Meldon) would give a second Plymouth - Exeter line ( around the north of Dartmoor). It has been said that a new East - West connection at Cowley Bridge junction could, in turn provide a second possible route for Paddington - Pymouth, bypassing Exeter.

Has any assesment been made on this?



I was going to say that this re-opening is the sort of 'Quick Win' that I would like to see all over the Network rather than huge expensive projects that take decades. But they have been talking about and planning re-opening this line for a regular service for decades as well. For a line like this which needs no buying up of any land and property, one really wonders why things take so long.

You would have thought they'd have come up with something a bit better than a class 150 for the inaugural journey...
[The line to Okehampton is unlikely to be cleared for much else, and that includes the drivers, who would have had to make route learning/training journeys in advance with whatever you have in mind. Not worth the time and trouble. The people of Okehampton are delighted with their Class 150s!--Ed.]