Posted 15th November 2021 | 7 Comments
Delayed rail plan set to axe HS2 eastern leg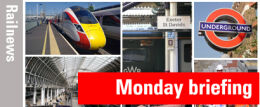 Delayed rail plan set to axe HS2 eastern leg
Reports are claiming that the Department of Transport's long-delayed Integrated Rail Plan is set to be published this week, and it is said to confirm speculation that the government will abandon the eastern leg of HS2 to the East Midlands, South Yorkshire and Leeds in favour of other rail upgrade schemes. The cost of these schemes has been put at £100 billion, and they will apparently include more electrification, some reopenings and the building of a tram system in Leeds.
Tram cracks halt services
All West Midlands Metro services have been withdrawn until further notice, after cracks were found in some of the 21-strong fleet of trams. The second-generation fleet of CAF 'Urbos' trams is relatively new and the discovery follows an earlier alert in June when some cracks were found, but temporary repairs have not worked. West Midlands Mayor Andy Street said it was 'incredibly disappointing and frustrating for customers – but safety must come first. It is now critical that Midland Metro Ltd get the repairs done and restore a safe service ASAP. I am seeking urgent answers from them and the manufacturer as to what has gone so wrong.'
West Coast Main Line services disrupted
A derailed engineering train blocked the West Coast Main Line north of Wolverhampton station yesterday, disrupting many train services. The effects were felt over a wide area, because the train blocked the entrance to Oxley depot, and about ten Avanti West Coast Trains were trapped as a result. Some services running on the London to Glasgow route had to be diverted or terminated at Preston, while many trains could not call at Sandwell & Dudley as well as Wolverhampton. London Northwestern Railway and West Midlands Railway services could not serve Wolverhampton, and trains operated by CrossCountry and Transport for Wales were also affected.
Salisbury trains restored
It is hoped that trains running east of Salisbury to Portsmouth and London will be restored tomorrow, after the collision two Sundays ago at Salisbury Tunnel Junction. A South Western Railway train slid past a red signal and collided with a Great Western Railway train, injuring a number of passengers. The driver of the SWR train was seriously hurt, but SWR praised him for staying in the cab and doing everything he could. Track at the junction was also damaged. The Rail Accident Investigation Branch said low rail adhesion was the cause.
Reader Comments:
Views expressed in submitted comments are that of the author, and not necessarily shared by Railnews.
Faster trains on the existing WCML or any railway line is limited by 'flight paths'. Simply raising the speed of the current stock from 125 to 140, would decrease the capacity of the WCML. The 140 (225kph) on ECML, WCML, and potentially the GWR are all out in branch section where the shear weight of train traffic is diminished.
The government has the 18tph in all the documents of planned services.
There are many YouTube videos on this - if anyone would like to have charts and diagrams explained. David Frankal has several on explaining HS2 and why it would be Extremely expensive to construct a railway station at Marylebone to accommodate 200m and 400m trainsets.
The current route Euston to OOC to Aylesbury to Birmingham interchange uses as much of the old GC route as is possible - even the parts that no longer exist and in the Mids, the GC is nowhere near the WCML... HS2 is adding two LGV's to the WCML. All the lack of capacity of the WCML south of Crewe and Rugby will be totally freed up to have faster intercity and more frequent local stopping services.
IF there is a freight aspect, then there is a freight aspect. At the moment there is no space for 'ANY' additional train path on the WCML.
The WCML trains from north of Rugby and Crewe rarely stop on their final stretch into London.
It is a sad state of 'totalitarianism' popularist elected dictatorship in Parliament of the past 11.5 years that it is OK to kill off the Eastern Leg and HS3... and never looking at constructing HS4, 5, 6, ...19, 20. The sort of network to have any two points in UK not more than two hours apart but it is OK to spend a fortune on a new Yacht of state!
Toton imo should be constructed slightly south so trains can have a pattern of Euston, OOC, B'ham Interchange, Toton then 3 to 4tph to Nottingham and 3 to 4tph to Derby. There is Plenty of room on the existing railway between Derby and Nottingham to lay an extra pair of rail or to simply use the existing by moving them a metre more apart and add OHLE into each station.

Queries :-

Is there a real need for extra capacity from London to Northwest England and West Midlands to be built to LGV speed standards ( over 140mph )?

If the additional capacity is aimed at taking freight trains off the southern part of WCML, rather than high speed intercity trains, there appears to be facility in the London area ( Neasden, for example).

As far as extra passenger capacity is concerned, both Marylebone and Padddington will gain once a good part of their suburban traffic can divert onto Crossrail.

On what basis is the estimated need for 18 extra paths per hour on this axis arrived at ?

As far as high speeds are concerned, the present 125mph limit on WCML could be upped to 140 mph for tilting Pendolino trains, by installation of cab signalling.

I was invoved in carrying out surveys for the electrification of the Ayrshire lines. All go then cancelled, 10 years later work recommenced and completed.
Weaver Junction to Glasgow, if my memory serves me correctly, again cancelled, 10 years later...
Transpennine route well on its way into completing the 10 year delay. Eastern leg of HS2, 10 years later?

If HS2 had made the route diagram correctly, the number of naysayers would be greatly diminished.
Route Diagram Map are Not geographical, so why always have HS2 look as if it is virtually in Wales?
The HS2 Route Diagram being adjacent to the WCML from Euston to Crewe with a few added stations on the High Speed Route.
HS2 is nothing more than adding FAST lines into London from the Midlands.
At the moment the WCML has to shuffle between High Speed Trains, Intercity Trains, and Local Stopping Trains. WCML is highly congested and I doubt there is a single addition Fast Line Path that could be squeezed into the usage of the quad tracks. The WCML is like LHR - Heathrow operates at apx 99% capacity!
Those who say... oh use the old Grand Central... HS2 does use the route of the old GC from north of Aylesbury into London. It can not follow the exact route into London as well Marylebone does not have the space for 400m or even 200m long trains. Also the rails into Marylebone are same as WCML - there is no room either side of the existing railway tracks to construct/install an additional pair of tracks. Those who live along the existing tracks would not appreciate having 18tph in both directions wizzing past. Running HS2 in tunnel from just inside the M25 to Old Oak Common (below surface station) and only surfacing on the approach to Euston is both cost effective and the only realistic route option. The GC has trains operating services so to remove them for HS Trains would take services to everyone along the remaining route. The remaining existing GC has NO room for an additional pair of High Speed Rails.
HS2 is nothing more than adding an additional pair of High Speed Only tracks to the WCML even if the route diverges... it could be drawn on Route Map Diagrams as adjacent. HS2 is about getting High Speed Intercity Trains from north of the Watford Gap (the Midlands) into London and relieving extreme congestion in the process. Sadly by the time HS2 opens, it will not be able to meet the capacity needs of the 2030s. HS2 should have been constructed as quad track or with space for quad track - tunnels and viaducts etc so when the OH She ite moment hits of Not Enough Capacity, it is far less expensive and far quicker to add a pair of rails to existing infrastructure.

Given there may be a case for spending our way out of crises ( I'm not an Economist), my main concern is that any spending needs to be cost- effective (high benefit / cost ratio) . Because the current HS2 plan appears not to be so, I just wonder whether a rethink might still be possible.

Both HS2 branches , terminating at Leeds or Manchester, are too short to bring large benefit, whilst costs of building through densely developed country are high. As far as higher speeds are concerned, both Manchester and Leeds are already within just over 2 hours from London, and rail has the bulk of these markets already. Very high speeds only come into their own to make a real diference on longer runs, such as London to Tees / Tyne / Scottish Central Belt.

If a HS route had been conceived to fulfil this, with Leed and Bradford gaining extra, albeit limited, "spin off" , it may have had a better benefit / cost to offer. If the WCML still needed extra capacity, a possible answer might have been to utilise the ex GC line , still used as far north as Calvert , with a rebuild / relaying from Calvert to a new junction south of Nuneaton. This might well have given a dedicated freight line to relieve WCML.

The basic message may be to keep high speed infrastructure independently conceived to capacity relief schemes ( unless obviously coinciding)).

LOL
The industrial countries are all investing in Heavy/Hard infrastructure to boost their economy to bounce back from the covid downturn.
UK also has an economy with a downturn from covid but also a downturn from brexshitastrophe... Instead of spending, spending, spending - on real infrastructure, in typical British ideology - HS2 East is Truncated/Cancelled!
How very British on everything. All projects, does not matter size or scope, it will be lucky, fortunate to have 50% achieved. It has always been this way and will always be this way.
HS2 undersized and when completed, will be over capacity from day one.
It as with all things, has been designed for passenger numbers from the 1980s.
This is up there with the cancellation of the rail link from London Heathrow T5 to the GWR. It was cancelled. How many vehicles and how much carbon would be eliminated by everyone in the GWR catchment area taking the Train to LHR!