Posted 10th November 2021 | 3 Comments
Intercity battery hybrid train to be created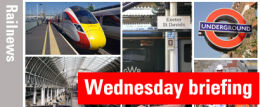 Intercity battery hybrid train to be created
Hitachi and Angel Trains have announced a project to create a battery hybrid train for intercity services on TransPennine Express. The work will including retrofitting an existing Class 802 'Nova 1' unit, with test runs set to start next year. It is hoped that such a train will save at least 20 per cent of fuel, and reduce carbon emissions by a similar amount. Assuming that the trials are successful, Hitachi and Angel said they will create a 'pathway' for plans to convert the rest of the 19-strong fleet. Angel Trains CEO Malcolm Brown said: 'Investing in battery technology for our fleet of Hitachi Class 802 trains is critical to delivering a greener service. We are committed to supporting the Government's net zero targets.'
Reader Comments:
Views expressed in submitted comments are that of the author, and not necessarily shared by Railnews.
Better than nothing
The real solution, of course, is to properly electrify all main lines, at the very least.
....
With this government ??

Great News. I have always thought that Scientific innovation will solve the Climate Crisis. As soon as there is money to be made from 'going green' then the problems will be solved. The American Elon Musk has become one of the World's richest men by taking a huge risk in successfully building electric cars.
Have Your Say