Posted 13th October 2021 | 3 Comments
Railway industry prepares to shed jobs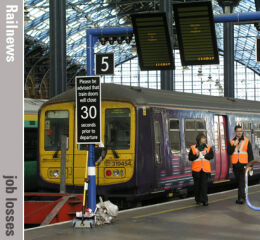 PLANS for a voluntary severance scheme within the railway industry have been unveiled by the Rail Delivery Group. The RDG says it is the industry's response to 'post-pandemic challenges', but the RMT has reacted angrily, saying that it has not agreed.
The industry says it is responding to 'different passenger needs' since the pandemic, and also aims to support future growth. It is now generally accepted that the traditionally intense peak hours are unlikely to return, but while the peaks may be 'flatter' leisure travel is showing signs of increasing, including the demand at weekends.
The new scheme is being described as part of a 'vital set of reforms to create a more modern, reliable and passenger-focused railway as it builds back from the pandemic and responds to changing travel patterns', and these reforms are linked to the predicted decline in commuter travel.
The industry is also under pressure from the Treasury, which is calling for a reduction in the costs of running the railway. At the moment, the number of journeys and revenue is about 65 per cent of pre-pandemic levels, and the RDG said: 'Hundreds of millions of pounds a month of taxpayer support is still being provided and journeys are not expected to fully recover to 2019 levels for some time.'
Staff who stay may also be expected to adapt, because the industry is calling for 'greater flexibility in ways of working to help passengers during disruption'. Meanwhile, it is widely predicted that the scheme to build the eastern leg of HS2 will be placed on hold as part of the proposals in the government's Integrated Rail Plan, which is expected this month.
Rail Delivery Group chair Steve Montgomery said: 'The railway can grow and become more customer focused, with new opportunities for hundreds of thousands of people working on it, but to do that we must adapt, and we cannot take more than our fair share from the taxpayer. Working with trade unions and our employees, our aim is to secure even more rewarding long-term careers for those that want them and offer support for those who would like to leave, reshaping the railway to deliver a strong, green recovery across all parts of the country as we rebuild.'
RMT general secretary Mick Lynch responded: 'This proposed job loss scheme across the rail industry has not been agreed with the RMT and we would call for it to be withdrawn before serious damage is done to industrial relations at this critical point as we emerge from the pandemic. It's crystal clear that cutting rail jobs will adversely impact on passenger service, safety and accessibility.
'We are angry that these proposals have been bounced on us outside of the discussions we have been engaged in through the Rail Industry Recovery Group. That is a serious breach of trust. RMT's executive will consider our response but we have said from the off that we will not allow the Covid pandemic to be used as a cloak for a jobs massacre across the rail industry. These plans should be withdrawn to allow normal industrial relations and procedures to continue without this threat hanging over us.'
Reader Comments:
Views expressed in submitted comments are that of the author, and not necessarily shared by Railnews.
As ever the Treasury are calling the shots.

Since privatisation the industry cost base has expanded and perhaps at long last the message has reached policy makers that it was unsustainable. However recovery from the pandemic should not be an excuse for a downsizing exercise that fails to recognise where the real waste & duplication has been allowed to fester in the fragmented structure of the past quarter century.

If the pandemic has taught us anything it is the value of those performing front line customer facing jobs. These are the employees who keep the wheels in motion & if full confidence is to be rebuilt in public transport they provide a vital link.

As we currently see in other industries the pandemic has played havoc with training, recruitment & staff retention. The rail industry has had to overcome it's fair share of challenges as programmes to introduce replacement rolling stock have slipped back. Let us hope that rail is not the next headline maker having tried cost in all the wrong places.

As to the Eastern leg of HS2. Again given the Treasury pursuit on cost reduction we can only presume that this will be a casualty along with many other valuable investment opportunities. Those of us with long memories knoe what happens when the Treasury rations funds. Build back Better, we'll be lucky to build back what we had@

It's met with mixed reactions in my office. Some are ready to go, some not. The offer isn't good enough for others to consider right now. I get the feeling there may be a push for more to be offered.