Posted 30th September 2021 | 2 Comments
RMT calls new strike ballot on ScotRail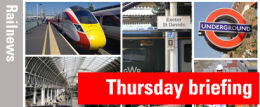 RMT calls new strike ballot on ScotRail
The RMT has served notice of an industrial action ballot on ScotRail as the latest development in its long-running pay dispute. The union said that the schedule for the ballot would permit action to take place during COP26 if, as expected, its members voted yes. Over two thousand RMT members will be polled. A few days earlier nine out of 10 ScotRail ticket examiners had confirmed their backing for continued strikes. The law required another vote, because industrial action began six months ago.
The dispute concerns differences in pay for rest day working between ASLEF drivers and other frontline staff, and also involves conductors, who have been striking alongside the ticket examiners every Sunday since the spring. The conductors, who walked out first, have already confirmed their support for the action. RMT general secretary Mick Lynch said: 'It is now down to ScotRail and their political masters to take this key group of staff seriously, to stop snubbing talks and to get round the table with the union to negotiate a fair and just settlement.' The examiners' walkouts are now set to continue at least until the end of October, and ScotRail warned that only a 'limited service' would continue to run on Sundays. It added: 'It's disappointing that the RMT's ticket examiner members have voted to continue with their long-running strike. We're seeing customers gradually return, but our financial position is precarious, and any strike action is damaging and wrong at a time when we need to deliver a safe and reliable service.'
Reader Comments:
Views expressed in submitted comments are that of the author, and not necessarily shared by Railnews.
Letter to the Editor. Not about this story but how about a story on Containers by Rail and Petrol. Surely the lack of Lorry Drivers (100,000?) is an absolute gift to the Railways ?
[Indeed. Very little has been said about it, though. When it is, we'll report it!--Ed.]