Posted 22nd September 2021 | 3 Comments
'No clear end in sight' to HS2 costs or delays with 'many difficulties ahead'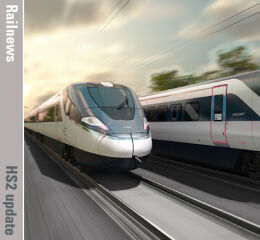 A House of Commons committee is warning that the HS2 crisis is deepening, saying that there 'is no clear end in sight' and that the programme will 'literally run out of time' if a key decision about the size of the high speed station at London Euston is delayed any further. It has also said that 'This project cannot simply keep sinking more taxpayer funds without greater clarity on the later phases.'
The Public Accounts Committee is responding after the government provided 'a clearer explanation of costs than we have previously seen in its reporting to Parliament'. The current estimated cost of completing High Speed 2 is between £72 billion and £98 billion in 2019 prices, compared to an original budget of £55.7 billion in 2015, at 2015 prices.

Civil construction of Phase One is now planned to finish in 2025, with initial Phase One services between Old Oak Common and Birmingham Curzon Street starting between 2029 and 2033. The Committee has added that Euston station is a key part of Phase One, but despite the necessary planning consents being granted last year, according to HS2 Ltd, the DfT is 'yet to make key decisions on the design and approach to construction there'.
In evidence, HS2 Ltd told the Committee it is 'getting close to the point where the programme will literally run out of time' if this next decision is not made soon. The Committee has also warned that the government still needs to decide how Phase 2b, which includes the controversial eastern leg to Leeds as well as Crewe to Manchester, will be integrated with the existing railway network.
Dame Meg Hiller, who chairs the Public Accounts Committee, said: 'HS2 is already one of the single most-expensive taxpayer-funded programmes in the UK but there's actually no clear end in sight in terms of the final cost, or even the final route. The project was plagued by a lack of planning and transparency from the start and there are many difficulties ahead. This project cannot simply keep sinking more taxpayer funds without greater clarity on the later phases. The development of Euston is a real challenge that must be resolved swiftly now.'
Reader Comments:
Views expressed in submitted comments are that of the author, and not necessarily shared by Railnews.
A link from the Midland Main Line to Euston allowing MML longer-distance services to terminate at Euston would free up paths on approach to St Pancras and platforms. The idea is that a revision to HS2 could then connect to St Pancras via the MML allowing limited-frequency services between HS2 and HS1 with trains calling at St Pancras where they would change direction. Most HS2 services would still terminate at Euston.


Crossrail is only now approaching completion over a decade before construction began and HS2 will also take a similar time to reach completion!

You can't expect projects of these size being delivered overnight and you need to learn to let them get on with the job as they are doing with the first two TBMs digging the first tunnels with each tunnel gaining more rings each day !

The problems at Euston are because it wasn't treated as a single projfrom the beginning with plants to simply add tge HS2 Station to the existing station when Euston Station should have been planned like London Bridge Station was as a single project including the underground.