Posted 20th September 2021 | 3 Comments
Northern leaders set out plans to 'decide and deliver' transport strategy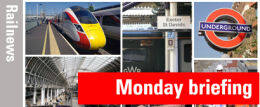 Northern leaders set out plans to 'decide and deliver' transport strategy
A conference in Leeds is hearing today how the region's leaders have been putting together plans for a 'new north', but they are warning that their ambitions will need more cash – and more powers devolved from Westminster. Transport for the North chief executive Martin Tugwell will tell his audience in Leeds that local leaders are best placed to make the plans a reality, creating opportunities for people and businesses. He wants the region's leaders to have the power to 'decide and deliver', providing an inclusive and sustainable North and a long-term funding settlement, which will put rail passengers first by leading the transport strategy. He says: 'There is a prize of building a New North up for grabs, but it requires both investment to create transformational change, and the devolution of powers to those best placed to use them.'
Northern Line extension to Battersea opens
London gained two new Underground stations this morning, when trains on the Northern Line Charing Cross branch started running between Kennington and Battersea Power Station via Nine Elms. The extension was funded by developers who are working on regenerating the Battersea area. Construction of the 3km line had been under way since 2015, and its estimated total cost is £1.1 billion.
Reader Comments:
Views expressed in submitted comments are that of the author, and not necessarily shared by Railnews.
What a contrast between two 'Northern' stories. Continued progress from TfL while continued talking with little tangible progress from Transport for the North.

While the post pandemic settlement for TfL now looks uncertain there are still plenty of investment projects underway that will enhance the capital's transport network. By contrast the transport network in the North continues to lack a coherent strategy and can't even be certain of jam tomorrow. Full delivery of HS2, should authorisation & funding be forthcoming, will be decades in the making. Similarly a high speed Trans Pennine route. Yet today while the existing routes are crying out for improvement at best they are offered scraps from the table if they're lucky or prevarication & deferment as has happened to the Castlefield corridor which is long overdue a solution.

It's not more cash that's needed is people with drive to get things done on the east side of the Pennines. The only decisions ever made are not to make one. Just look what's happened with electrification on the west side, on the east side Skipton, Bradford Foster Square, Ilkley lines years ago and that's it other than currently a laughable few miles from Colton Junction to the middle of nowhere just north of Church Fenton. Lines to York, Hull and Harrogate are crying out for it along with extension from Guide Bridge to Leeds. Let's see 'boots on the ground'......