Posted 17th September 2021 | 1 Comment
Government helps to fund Stratford upgrade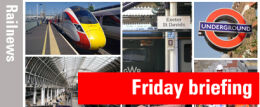 Government helps to fund Stratford upgrade
Network Rail has secured a £2 million grant from the Department of Transport to help with the development of plans for congestion relief at Stratford station in east London. Stratford is a major hub, served by National Rail, the Docklands Light Railway, London Underground and London Overground. It was a central part of transport plans for the London Olympics in 2012, but since then there has been a 'huge growth' in demand, according to Network Rail. Before the pandemic almost 42 million passengers used Stratford in 2019-2020, making it the busiest non-terminus station in the capital. This passenger count is about the same as at Birmingham New Street, which has five times as much circulation space since New Street was rebuilt a few years ago. During peak times Stratford requires congestion management measures including one-way systems around the station and on to the platforms to maintain the safety of passengers and the DfT funding will help Network Rail to develop plans to improve the station, which is managed by Transport for London.
Transport for Wales in train toilets row
Controversy has flared in south Wales over the lack of toilets on the forthcoming Stadler Flirt tram-trains which are set to run on the core Valley Lines from next year. Wales Online has quoted an unnamed staff member who is reported to have said: 'The lack of toilets is something that's going to become an issue. If someone elderly needs to go, or there are families with small children on board, are they really expected to get off with all their belongings and then catch the train behind?'
The RMT is supporting the protests, saying that it has 'serious concerns' about the fact that some stations are unstaffed, where toilets could be vandalised and may in any case be uninviting to vulnerable people. The union is also concerned that the interiors of the tram-trains could be soiled, with the additional possibility of confrontations between staff and passengers. RMT general secretary Mick Lynch said: 'There are serious issues on these new Stadler trains that TfW need to address in consultation with the union. It shines the spotlight again on lack of station staffing and the disproportionate impact on disadvantaged groups. RMT is fully prepared to engage in both full risk assessments and further discussions involving our local reps.'
Transport for Wales said: 'We recognise the importance of accessible toilet facilities for passengers using future Metro services. While other destinations on the new network would have onboard toilets the type of train needed in the Valleys dictated otherwise. We are creating a modern metro-style service with tram-trains which need the ability to run on street – thereby facilitating future extensions of the Metro network. As such there are limited options available amongst global rolling stock for these types of vehicles with fully accessible toilets on board.'
Reader Comments:
Views expressed in submitted comments are that of the author, and not necessarily shared by Railnews.