Posted 7th September 2021 | 5 Comments
FirstGroup unveils details of East Coast open access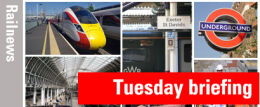 FirstGroup unveils details of East Coast open access
FirstGroup's new open access services are set to start running on the East Coast Main Line this autumn. First said its new company will be branded 'Lumo', and will use five new AT300 electric Hitachi-built units to provide services between London and Edinburgh with the aim of going 'head-to-head with domestic air travel'. Fares on the one-class trains will start at £14.30, and First is promising that six out of 10 single fares will be £30 or less. It is expected that Lumo will add more than a million passenger journeys a year, and that the company will contribute £250 million to the economy over 10 years. Services start on 25 October, and their frequency will increase over time to a maximum of ten services a day by early 2022. Lumo managing director Helen Wylde said: 'The reasons people choose different modes of travel are changing. People are now considering their impact on the environment very carefully. They also expect better service and catering. Lumo is a new rail travel experience that is kinder to the planet and better value for passengers, while never compromising on service.'
Network Rail plans five-day blockade in south of England
The railway between Southampton and Bournemouth will close for five days from 1 to 5 November, so that engineers can upgrade the track, signals and drainage between Totton and Bournemouth, removing speed restrictions. Network Rail Wessex route director Mark Killick said: 'This critical improvement work will improve journeys, making them more resilient and allowing us to remove speed restrictions. To support the country building back from the pandemic and as a reflection of a rise in leisure and tourism travellers to the South Coast, this critical work will be completed over five weekdays rather than closing the railway for a number of weekends. Changing travel patterns mean our railway is busier at weekends than midweek and it's important for us to minimise the number of people affected by the work being carried out.'
MSP intervenes in ScotRail disputes
A Scottish Labour MSP has called on the Scottish Government to end the long-running ScotRail disputes by providing equality for rail workers. Senior conductors have been on strike every Sunday since March, and ticket examiners joined them in April. Train cleaners and gateline staff also voted to take action short of a strike over the summer. Mercedes Villalba has written to the Scottish minister for transport Graeme Day, urging him to convene a summit with the RMT and ScotRail to resolve the dispute. She has also called on the Scottish Government to rule out cuts to passenger services and reductions in the ScotRail workforce.
Signalling upgrades completed for Werrington diveunder
Network Rail has completed major signalling work on a new section of track on the East Coast Main Line north of Peterborough, ready for freight trains to dive underneath the main line on a new connection. Engineers commissioned the signalling over the weekend. Work began at Werrington in the summer of 2018, and the 11,000-tonne tunnel was built on the site and then pushed into place in January this year. The diveunder needed 8km of new track, and over the summer, work was completed to connect the new track to the existing Stamford lines and install the signals.
Underground passenger numbers continue to recover
The number of passengers tapping into London Underground stations yesterday reached a new post-pandemic level. Transport for London said it had recorded 17 per cent more on Monday morning, some 110,000, compared with last Tuesday. The largest increase was between 08.00 and 09.00, when the number of passengers entering the system rose by 22 per cent.
Reader Comments:
Views expressed in submitted comments are that of the author, and not necessarily shared by Railnews.
Does this indicate what might be achieved (if it turns out to do so) when a rail operator is free to concentrate on a speciic potential market , rather than an all thing to all people service?

Typical of this latter above is, perhaps Liverpool to Norwich, made up with 2 x 2coach dmu's , stopping at all stations , and not suited to offer mainline express timings and comforts competitive with road or air . It appears it might be usefu to separate the North West to E. Anglia trains from the more local ones linking Liverpool , Manchester, Sheffield and Nottingham.

Why are the new Lumo express trains, cheap travel to London, not stopping in Durham ?
It is such a central and easy to reach station plus the city is full of students who would use it.

How fast will the LUMO services travel?
140mph in 2023? 4hours London to Edinburgh ?
10 services per day implies
# 2 units making 2 x4 hours trips EACH way each day
# 2 units making 1.5 x4 hours trips
# 1 unit making 1 return trip and
# engineering spares provided by Hull Trains.

So First Group open access East Coast Trains has been renamed (and rebranded) to as Lumo Trains. Why change it to something so stupid for a brand new open access rail operator that is to operate a low cost direct rail service from London Kings Cross to Edinburgh Waverley.
Have Your Say