Posted 2nd August 2021 | 9 Comments
Fine after boy was electrocuted in freight yard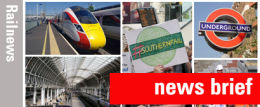 THE operator of Daventry International Rail Freight Terminal near Rugby has been fined £6.5 million after being found guilty of negligence over the death of an 11 year-old boy in June 2017.
Northampton Crown Court heard that Harrison Ballantyne and some friends entered the terminal to retrieve a football, and while he was there he climbed on to a stationary wagon and received a fatal electric shock from the 25kV overhead.
The terminal's operator WH Malcolm Limited was found guilty of two offences under the Health and Safety at Work etc Act 1974 — failing to ensure, so far as is reasonably practicable, that persons not in their employment were not exposed to risks to their health and safety through the conduct of their undertaking — and the Management of Health and Safety at Work Regulations 1999 — failing to undertake a suitable and sufficient assessment of the risks to the health and safety of persons not in their employment.
During the three week trial, Office of Rail and Road inspectors told how they had discovered that WH Malcolm had failed to assess the risk of unauthorised access to the terminal, and also how wagons were left on electrified lines when non-electrified sidings were available.
Judge Lucking said: 'In contesting this trial the defendant failed to take responsibility for a serious and obvious failing to allow public access to what is and was a dangerous environment.'
The ORR's chief inspector of railways Ian Prosser added: 'It is only right that WH Malcom are held to account for failing to prevent unauthorised access and for failing to manage the risks in what should have been an entirely avoidable tragedy.
'The railway industry has done some excellent work in preventing trespass and educating children about the risks, but this case serves as a reminder that should access to the railway not be properly controlled, serious events like this occur.'
Reader Comments:
Views expressed in submitted comments are that of the author, and not necessarily shared by Railnews.
I do have sympathy for the family. Very sad. RIP young boy. :'(

Another thought on the Subject. People can do all sorts of damage to trains including freight. Graffiti being the least of them. Theft from Containers and deliberate damage can also occur to brake pipes. Dangerous and costly. Containers may contain chemicals that can catch fire and devastate local areas. And some of us know exactly which containers are being used by the Military and where they are kept. So it would seem essential that all freight yards are kept 100% secure just because its better all round and not just to deter young boys.

Although this was tragic you have to ask, whatever happened to personal responsibility (both the child and parents) ?
He and his friends broke the law by trespassing.
If someone climbed over the fence in someone's backyard and drowned in the pool is the homeowner responsible for that?
Do you think if he wandered onto the motorway to retrieve a ball and got hit they'd fine Highways England £6.5m ? W H Malcolm should appeal this ruling and ridiculously high fine.

All sorts of non-PC comments immediately spring to mind, mostly associated with the word: "stupidity"
There are, surely, limits to "reasonable protection" - as others have remarked, the roads are open to children, & it reeks of "double standards" to me.

I was a boy once and we used to climb over the fence and go on the railway track. Dangerous. But why blame the company for someone's trespass/ illegal access to this terminal? Tragic death but the boy shouldn't have been there in the first place.

I suppose it all boils down to reasonableness and assessing the risk. Is it reasonable to stable wagons under non-electrified lines, well obviously the court and ORR thought it so. Is it also expected that misadventure in entering the premises and climbing onto a wagon should be risk assessed and mitigated - again in this case the court thought so. But really £6.5m! Whilst it is tragic that a child should die under any circumstances punitive action to the sum of millions surely does not help.

When I think of all the near misses I had as a 'Train Spotter' dodging Steam Engines being driven in and out of Sheds whilst I skipped around taking numbers, I suppose I'm lucky to be still here. However I suppose many boys have to be protected from themselves. However plenty of danger exists, - just crossing the road is often pretty dangerous and being moved down by cyclists or electric scooters on pavements doesn't seem to have the same outcry as railway accidents.

But where does it all end? Should every inch of railway in the UK be abutted by razor wire and watch towers? What about other hazardous environments: industrial sites, roads, marshes, cliffs etc - do all of these need fencing off too? It's incredible that businesses and organisations are now expected to police the general population to stop them doing dangerous things.