Posted 21st July 2021 | 6 Comments
New proposals to boost tourism using heritage railways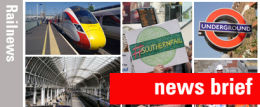 A NEW report from the All-Party Parliamentary Group on Heritage Rail is recommending more use of the 'amazing network of heritage railways' to boost tourism using public transport.
The report notes that running heritage services on to the main network could pose problems because of the higher technical standards which apply.
However, closer partnerships with National Rail operators could pay dividends, and it is possible to run Network Rail trains on to some heritage railways, although the presence of modern trains could at least dilute the heritage atmosphere on preserved lines and possibly discourage some of the volunteers on whom most heritage railways rely.
Even so, 32 heritage railways are connected or have an interchange, such as an exchange platform, with the National Rail network, while two lines have regular scheduled through services to and from National Rail.
A further two have a 'well developed plan' to do so. One, the Dartmoor Railway has been taken back into the national network and will have regular trains from Okehampton to Exeter later this year under the Government's 'Restoring your Railway' initiative.
The Group's other recommendations include providing information on principal connecting heritage railways through National Rail Enquiries, protecting the route of former railways where heritage railway extensions may be needed in the future, and reflection of the role of heritage railways in new passenger service contracts with national train operators, who could provide the link with national ticketing and information systems in a 'fostering' role.
Chair of the Group Liz Saville Roberts MP said: 'Heritage railways are a key part of the tourism sector but offer so much more in terms of local employment, skills training and well-being benefits to both the volunteers who work on them and the visitors who enjoy them to access the countryside. Our study shows that there are clear opportunities to co-operate more closely with the national rail network in developing a new era of growth in leisure travel by rail.
'The rich heritage of Britain's railways is something to celebrate, but their potential to provide car-free access to sensitive rural and coastal areas is their extra contribution to wellbeing and to local economies. This in turn also brings environmental benefits and should be encouraged.'
Reader Comments:
Views expressed in submitted comments are that of the author, and not necessarily shared by Railnews.
Good idea but as already mentioned, there is a looming issue regarding use and availability of coal for the heritage lines. For the heritage lines to continue to exist there does need to be an exemption here.

As an example, the Talyllyn uses (iirc) roughly 90 tons per year. Obviously some of the larger railways use substantially more but the national total of coal used by the heritage lines is tiny compared to the coal fired power stations (probably less than a single days coal for a single power station per year).
[We have a three page feature in the August print edition of Railnews about the problems facing heritage railways -- most certainly including the coal issue. The August edition will be published on Thursday 5 August.--Ed.]

I was at Eridge station a couple of weeks ago and it looks like the works to make the station step-free will create an easy interchange for the elderly and those with pushchairs between the National network and the Spa Railway.

How many from Croydon will take the family for a day out to see the steam trains?

All it needs at Eridge is a nearby pub!

We need more thinking like this! I can't see a loser at Eridge!

The recognition of the benefits of heritage railways is very encouraging.

It is good that they suggest exploiting links with the national network.

Protecting the routes of former railways is a very good idea, especially when considering what Highways England is doing in filling in perfectly good bridges. Perhaps these old bridges and routes should be handed over to Network Rail or a new body set up for their long term maintenance.

I've been banging on about this exact thing for months now... well something similar to boost UK based attractions after eighteen months of staying home

I missed the bit in the decarbonisation report about the first battery powered steam train.