Posted 8th July 2021 | 2 Comments
Peace talks set to start in Caledonian Sleeper dispute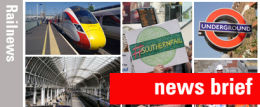 TALKS are due to begin at ACAS tomorrow in a bid to find an agreement in the RMT's dispute with Caledonian Sleeper over a pay freeze.
There has already been one series of strikes after a ballot revealed that 85 per cent of the RMT's sleeper members supported walkouts. As a result, there were no sleeper services between 15 and 26 June.
Meanwhile, the RMT has welcomed support from MSPs for a Scottish Parliamentary motion which calls on the Scottish Government to intervene.
The motion highlights that 'under the terms of its Emergency Measures Agreements with the Scottish Government, Serco Caledonian Sleeper is able to receive performance and management fees' and goes on to say that 'as the Scottish Government is managing the franchise via the EMA, only it has the ability to resolve the dispute'.
RMT general secretary Mick Lynch said: 'The Scottish Government has openly criticised the Westminster Government's public sector pay freeze, which has been applied to rail workers in England, but yet it has taken the same approach in Scotland. On the one hand it is refusing to fund a pay award for Scotland's key worker rail staff while at the same time funding management and performance fees under private operator Serco's Emergency Measures Agreement. This is completely unjust.
'RMT is calling on the Scottish Government to take action to ensure that the ACAS talks commencing tomorrow are productive and to ensure we can reach and a fair and just resolution.'
Reader Comments:
Views expressed in submitted comments are that of the author, and not necessarily shared by Railnews.
A recovery in revenue is needed to help pay off the huge debt incurred due to borrowing money for the bailouts during the pandemic (which as some seem to have forgotten, is NOT over yet). The same applies to any pay raises needing increased revenues to fund them, yet funding has been diverted to keep rail workers (including a certain socialist union's members) fully employed with no pay cuts. So how to help increase revenue as we come out of the pandemic? Well if you're a greedy mindless socialist it appears their solution is to strike, killing all revenue for the length of the strike, and afterwards as people come to learn what we all knew in the bad days decades ago, that the railways can't be relied on because of repeated pointless strikes. It seems some Radical Marxist Trotskyites never learn from history - or simply don't care.