Posted 24th June 2021 | 6 Comments
Heathrow western access rail link 'set to be mothballed'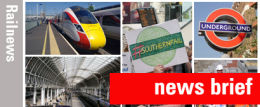 PLANS to build a new west-facing connection from the Great Western Main Line into Heathrow Airport have been put back, according to Network Rail chief Andrew Haines.
The change is part of a review of the railway enhancements programme, after its £10.4 billion budget was cut by £1 billion in December. The longer-term implications for railways in general after the pandemic are also unclear.
Now a new 'Rail Enhancements Pipeline' is expected within the next few days, after months of discussions between Mr Haines and the Department for Transport to decide how economies can be made, although he has also pointed out that some money can be saved by modifying existing plans and using new technology.
A second scheme expected to be put on hold is upgrading the Brighton Main Line.
One factor in the case of the Heathrow western access is that it had depended in part on funding from the airport, which has been facing its own cash crisis after reductions in air travel.
Mr Haines said: 'Some schemes will inevitably be changed or delayed due to the impact Covid has had on them. Likewise work on schemes such as the Brighton Main Line will be pushed back as the benefits from it won't be felt for a long period.'
Reader Comments:
Views expressed in submitted comments are that of the author, and not necessarily shared by Railnews.
What about the Heathrow Southern Link that the new spur line will go from Staines or Feltham to Heathrow Terminal 5. Has that also been "mothballed"??

This raillink would greatly reduce the traffic on the M4 and M25!
Therefore is should be a priority of the National Government.
Has it been shelved due to vested interests in keeping as many cars a possible going to and from LHR every day?? Loss of parking fees, Loss of hotel rooms, etc.
I live in Berkshire and my choices are:
1. car to LHR - slow and stuck in congested traffic
2. bus to LHR - slow and stuck in congested traffic
3. taxi - slow and stuck in traffic
4. rain to Paddington or Hayes and do a reverse back - time consuming
5. train to LGW as it goes direct from RDG to LGW - takes longer but is a single train journey... would be better if the journey was less than 30 minutes.
I am in Reading, there are millions who journey from the west and south-west who could benefit from easy trains either direct or a change at Reading, Oxford, Bristol etc.
The few million it will cost for this project is peanuts, pocket change - Especially when considering the amounts 'wasted' by the tories on covid.



Smoke and Mirrors. Get some announcements out about potential projects in the South being shelved to deflect criticism from deeper cuts to come in the North.
The leveling up is as meaningless slogan to win votes.
We better get ready for trundling around in clapped out old sprinters, on speed restricted lines into capacity constrained stations for the next decade plus.

This is unfortunate. Currently, Heathrow is well connected to Paddington and hopefully soon, to central London , but pretty poorly to the rest of the country, at least in terms of surface transport.

For example, one possible development could have been to extend X Country services from Birmingham and points North to terminate at Heathrow rather than at Reading . There does, though, appear to be a debate at present re. on the one hand having a large "hub" airport , namely Heathrow , with other "satellites" around the country, or alternatively to develop these provincial airports to be able to host more direct international flights.

I guess this decision will influence such projects as mentioned above.

I don't know how some points and 540 metres of raised track through the Stockley Close Industrial estate on a curve comes to £10bn. Quick short fixes like these could be subbed out to foreign contractors with prefabricated infrastructure for a fraction the price.
[The whole enhancements programme had a budget of £10.4bn, not the Heathrow link alone.--Ed.]