Posted 21st June 2021 | 7 Comments
Northern Powerhouse Rail 'faces axe', claims report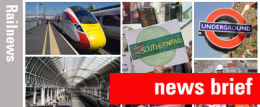 IT IS being claimed that Prime Minister Boris Johnson is set to hold a meeting in secret as soon as today at which plans will be agreed to axe much of Northern Powerhouse Rail, including a high speed line across the Pennines which has been dubbed 'HS3'.
The reason is said to be the rising costs of HS2, and Northern leaders say they are 'deeply concerned' about the claims, which appeared in the Sunday Express.
The Department for Transport has denied the reports, pointing to the forthcoming Integrated Rail Plan, which it said will 'outline exactly how major rail projects, including HS2 phase 2b, the Transpennine route upgrade and other transformational projects such as Northern Powerhouse Rail, will work together to deliver the reliable train services that passengers across the North and Midlands need and deserve'.
Northern Powerhouse Partnership director Henri Murison said: 'In the Prime Minister's first major policy speech in Manchester, he committed to building Northern Powerhouse Rail across the Pennines. Rumours that this commitment will be broken are deeply concerning for Northern leaders who are working towards rebalancing the economy. The North was promised HS2 and Northern Powerhouse Rail in full – to be abandoned now, just as we begin a recovery from the pandemic, would be a hammer blow.'
West Yorkshire mayor Tracy Brabin says she is demanding 'urgent clarity' from the DfT.
Meanwhile no date has yet been given for the publication of the DfT's Integrated Rail Plan.
Reader Comments:
Views expressed in submitted comments are that of the author, and not necessarily shared by Railnews.
We often look at Northern Powerhouse as confined to a group of cities , Liverpool, Manchester, Leeds, Sheffield, Newcastle and Sheffield ,and the internal services between these.

Something not usually considered , though , is the lack of good service between these and other provincial centres further away .
What about Manchester to Norwich / Cambridge, or to Dundee and Aberdeen?Why not Milton Keynes and Northampton to Newcastle and Leicester / Nottingham to Edinburgh / Glasgow? And so on. Such routes don't need an intensive interval service, just at least one or two through trains per day.

As the Treasury is already reeling from the shock of the cost of managing the pandemic I don't think we should be too surprised to see a re branding of Northern Powerhouse Rail to reflect a descoping of the project to save money. Until there is a return in confidence in public transport it is still too soon to understand the long term implications the pandemic has had on demand.

Northern Powerhouse Rail has been around for about a decade now & was certainly a pet of previous chancellor George Osbourne. A core element should have been the electrification of the core Trans Pennine Route & as yet no coherent delivery plan appears to be available to see this seemingly modest proposal completed in a coherent manner. Certainly the cost over run associated with GWML electrification & the service meltdown associated with the Northern/TPE timetable fiasco have set North of England rail investment back years. The Castlefield corridor remains a bottleneck & rather than continuous electrification with sensible fill in projects to achieve operational synergies we are being drip fed a piecemeal investment approach rather than a coherent strategy. While the Northern Pacer fleets may now have been retired it should be recalled that the Sprinter fleets are from a similar generation. Where is the replacement strategy? Let it not be forgotten that younger fleets of trains have been displaced by brand new trains to feed the South East commuting market, a market that may now be subject to considerable change as new working patterns emerge post lockdowns.

Given that the Crossrail 2 project in London has now been mothballed it would not inconceivable that the ambitious HS3 project will also be quietly shuffled to one side as well until the good times hopefully arrive.

The mantra may be 'build back better' but I will bet with cash tight when it comes to north it will be build nothing at all!

A properly coordinated and integrated upgrade of rail routes across Northern England would bring, in a matter of years rather than decades, immesurable benefits at a cost trivial compared with the building of HS3. I suggest a careful study based on the Dutch or Swiss models.

Legislation for HS2 extension to Crewe has been passed and work is already getting underway so HS2 will be going way past Birmingham!
While legislation for next section Crewe to Manchester was announced in the Queens Speech !

HS2 and NPR are dependent on each other !

Antis have got to stop believing their own fantasies especially cost of HS2 as it's cost iin tge real world at present is the cost for London to Crewe which Parliament has agreed to the rest will follow as legislation for further sections is passed through Parliament.

How does Europe fund all of their HS routes? What can we learn from them?

I predict rising costs will ensure HS2 never gets further than Birmingham, accompanied by some limited upgrades of routes in Northern England.