Posted 21st June 2021 | No Comments
New part time season tickets go on sale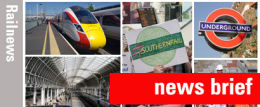 Updated 11.32

THE first part-time season tickets have gone on sale today, and will be valid from next Monday, 28 June, but transport campaigners said they are 'a missed opportunity'.
The Department for Transport said the paperless tickets will allow travel on any eight days in a 28-day period, with passengers able to tap smartcards or scan mobiles at the station. There will be no need to decide the days of travel in advance.
Passengers can also use an online 'season ticket calculator', which will highlight the best tickets for them based on their journey, working pattern and individual needs.
The DfT said the new tickets, which have been called for repeatedly over the past few years, had 'the potential to save commuters hundreds of pounds'.
Examples it quotes for three days a week save over £230 a year from St Albans City to London, over £110 from Bromsgrove to Birmingham and over £90 from Weston-super-Mare to Bristol Temple Meads.
Transport secretary Grant Shapps said: 'As we kickstart the biggest reforms to our railways in a generation, flexible season tickets are the first step. They give us greater freedom and choice about how we travel, simpler ticketing and a fairer fare.
'With a season ticket calculator to see which option works best for you, and a book with confidence guarantee to make journeys stress-free, the future of fares is flexible.'
The new tickets have not been welcomed by everyone.
Norman Baker from the Campaign for Better Transport said: 'Finally, after years of campaigning people who commute part time are being offered an alternative to full-time season tickets. Unfortunately, these new flexible tickets do not appear to offer the kind of savings we had hoped for and are not comparable to the discounts for people commuting full time. There appears to be no standard level of discount and in some cases the flexible season ticket could end up being more expensive than the day return option.
'The projected growth in hybrid working has made this an urgent issue and to avoid an increase in commuting by car we need to encourage people back on board trains. The test will be whether the level of discounts offered will entice people on to rail. Sadly, we don't think these will, except at the margins, so this could turn out to be a real missed opportunity.'