Posted 24th May 2021 | 3 Comments
New flexible train interiors unveiled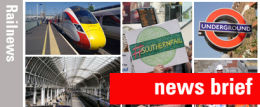 GO-AHEAD Group and rolling stock leasing company Angel Trains have unveiled a potential interior layout for trains in the future, which would allow seating and luggage space to be adjusted according to demand and the type of travellers on board.
There would also be dedicated space in each vehicle for fold-up and full-size bicycles, while secure cabinets are also being considered.
The alternatives have been dubbed 'commuter mode' and 'leisure mode'.
Go-Ahead emphasised that its plans are early blueprints. They include sliding armrests to allow seats to be switched from airline-style individual seats to communal benches for family groups. Neighbouring seats could be folded down when pressure on space was less acute, to provide additional surfaces for travellers' belongings, such as laptops or food and drink.
Other changes being examined include permanent hand sanitiser dispensers, antimicrobial finishes and touchless doors to reflect greater public awareness of hygiene.
Digital displays would show passengers where seats are available, while new under-seat storage areas could be created to allow for passengers carrying more luggage.
Go-Ahead's chief strategy and customer officer Katy Taylor said: 'Passengers are returning to the railways and we expect to welcome many more back as further Covid-19 restrictions are lifted. Travel habits are changing, though, and we need to plan for the future.
'The morning rush hour is likely to be less acute, with more demand for off-peak services during the day, as people space their journeys out. Commuting patterns will be more flexible than the traditional nine-to-five for many of our passengers, and we want our trains to reflect that flexibility.
'We're anticipating a long-term increase in demand for leisure travel by rail as people are encouraged to leave their cars at home. And we believe many more of our customers will arrive at stations by bicycle, with an expectation that their bikes can be accommodated comfortably on board.'
Reader Comments:
Views expressed in submitted comments are that of the author, and not necessarily shared by Railnews.
Good to see the return of "passenger"!
For "leisure mode" travel two of the suggestions could be fulfilled by dispensing with airline style seating layouts and laying out the seats in bays of four throughout.
The space created at floor level between back to back seating could then be used as storage areas for passengers carrying more luggage.
The same seating layout would also provide additional surfaces for travellers' belongings, such as laptops or food and drink, on tables between the facing seats.
Furthermore, if the four-seat bats could be aligned with the windows, "leisure mode" passengers would enjoy a much enhanced view of the passing scene.
With respect to bicycles, it would be better if these could all be in one place on the train, rather than being mixed in with movement of passengers boarding or leaving. The bike area could also be used for storing large items, in which case some sort of supervision may be appropriate.
I believe examples of such layouts are to be seen on many of the heritage railway lines Great Britain.

Why not rename it as Commuter Class and Leisure Class.