Posted 24th March 2021 | 8 Comments
MPs call for 30-year electrification programme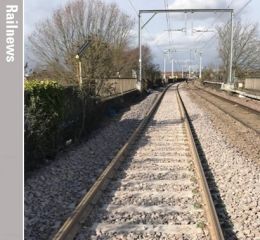 THE government should launch a 30-year programme of railway electrification if it is to meet the legally binding target of net zero carbon emissions by 2050, according to the House of Commons Transport Committee. The Committee's chair has also criticised the continuing use of trains by some operators which are not fully accessible.
A new report from the Committee points out that a former minister wanted to replace all diesel trains by 2040. The target was unveiled in February 2018, when transport minister Jo Johnson, who is the prime minister's brother, said: 'I would like to see us take all diesel-only trains off the track by 2040. If that seems like an ambitious goal – it should be and I make no apology for that. After all, we're committed to ending sales of petrol and diesel cars by 2040.'
The Committee says a long-term electrification strategy should be a 'matter of priority', including the 'use of battery and hydrogen technology that is underpinned by appropriate costings, a credible delivery plan and enabling targets and milestones'.
It continues: 'As electrification is the only immediate decarbonisation option for most of the network, the Department should publish the list of 'no regret' electrification schemes identified by Network Rail and confirm which will come first and when.
'Uncertainty is a key obstacle to delivering a decarbonised railway. The Committee heard that delays to key transport strategies such as the Department's Decarbonisation Plan, the Rail Reform White Paper and the Williams Review, combined with a mismatched target framework, have cost the sector valuable time for planning and investment.'
The Committee's chair Huw Merriman added: 'Decarbonising rail, and making our trains cleaner and greener, will be a considerable challenge for us all. Transport accounts for the largest source of carbon dioxide emissions of any sector in the UK at 27 per cent. Trains in Great Britain still rely mainly on diesel traction – an estimated 62 per cent of the rail network is diesel-powered compared with 38 per cent electrification. It will be some time before battery and hydrogen-powered trains are ready to depart the station, leaving electrification as the main option.
'Electrification has a patchy record of delivery. It's time to invest in a rolling programme which will speed up delivery, drive down costs and hold to account those who do not deliver to time or budget.
'We know that the Government is keen to encourage the development of hydrogen power and ask that the decarbonisation plan is flexible enough to include alternative and new technologies. To help, our research and development capabilities must be properly supported and funded.
'Rail contributes less than one per cent of the total UK annual greenhouse gas emissions and has a huge role to play in helping us move people and goods around using zero-carbon solutions. We must ensure that we don't push freight on to the roads as the move from road to rail freight is an important part of meeting our net zero targets.
'As for the passenger service, the industry has had 11 years to prepare for legislation making it unlawful for a passenger rail train to be in service unless it is accessible. There are at least four train operators that are still not complying with legal accessibility requirements. It is not acceptable for the Department for Transport to continue to sign dispensations. Public transport must be accessible to all. The Government and industry must make this happen.'
Reader Comments:
Views expressed in submitted comments are that of the author, and not necessarily shared by Railnews.
An electric railway is one of the greenest forms of transport that there is. A rolling programme is the cheapest way of electrification. With such a programme teams wouldn't have to be assembled and learn how to do it for each scheme. Projects such as the GW line could have been done at far less cost and probably would have been less ugly. The current system of stop-go is the most inefficient and expensive possible. So what are we waiting for?

I believe the delay in electrification of Didcot to Oxford was because of plans to increase capacity on this route for freight traffic as well as, perhaps, plans to upgrade and extend Oxford Station. It is not a decision that Network Rail can make but would require approval from the DfT and, ultimately, the Treasury.

The MML new fleet of trains will be hybrid which gives the flexibility to upgrade the railway before electrification.

So stations can be remodelled with longer platforms and additional 3rd and /or 4th tracks added and only after this has been done will that section be electrified.

There are still infill schemes possible on Southern Railway while South West Trains from Waterloo needs new trains to replace the DMUSs which would be hybrid AC/DC diesel / battery trains with extension of electrification towards Exeter using overhead wires suitable for SWT and GWR and freight trains following on.

A rolling program will allow gaps to be infilled with of course new gaps appearing as routes are electrified

It is never quite the right time for electrification. However, the cost-effective answer is to have a rolling programme which aims to install OHLE on all but the lightest used lines.

If NR cannot finish the six miles between Radley and Oxford why contemplate other schemes?

Just start by continuing the Midland Mainline as far as Sheffield, and infilling the cancelled parts of the GWML electrification. Then plan for implement the rest of the network, based on hybrid overhead/battery trains, with batteries carried the trains through complicated-to-electrify sections such as bridges, tunnels and stations: this would radically reduce the major costs involved in raising bridges, lowering tracks, etc.

It has been said 1001 times...
The OHLE installation equipment used to electrify the GWR, MML, xRail, etc... should have been 'retained' as a purchase instead of a lease. The equipment could have easily been put into work on a 'rolling project' of adding OHLE until every current and future railway line has power with ECTS.

No-one has a clue what the Railways are going to look like next year, or much of our lives. If things don't recover we could even be looking at a 'Beeching Mk II' report in which the Government is trying to save money by cutting services and even lines. Even if it doesn't get that bad, investment is going to need to be targeted differently. Maybe it will be totally in the North because of the Government's Election promises, or even at Scotland to prevent a second Referendum. Electrification will only be cost-effective on lines which are busy.