Posted 18th March 2021 | 2 Comments
New warning of climate change threat to ageing railway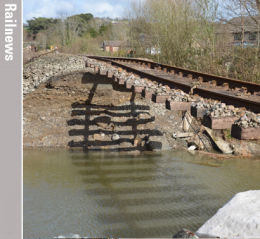 TWO key reports have been published by Network Rail, accompanied by a new warning that climate change is posing a 'substantial' threat to railway infrastructure, particularly as nineteenth century earthworks were often poorly designed and drained, and are now typically at least 150 years old.
One of the reports, into the circumstances which led to the fatal derailment at Carmont near Stonehaven last August, recommends that aerial surveys using helicopters and drones should be carried out more often, particularly after heavy rain.
The Carmont derailment was caused by a landslip which dumped debris on the track after a period of bad weather, and this debris derailed an HST which had been returning to Aberdeen after another landslip further south had interrupted its journey to Glasgow. Three people were killed in the derailment, which left the train strewn down an embankment. Two of those who died were railway staff, and the third was a passenger. The train had been very lightly loaded, and this fact may have prevented a greater death toll.
Network Rail promised to learn from this accident, and commissioned experts Lord Robert Mair and Dame Julia Slingo to analyse the implications of the Carmont derailment and make recommendations.
Transport secretary Grant Shapps also called for a more general review of the effect of climate change on the railway, and in particular how earthworks are managed. An initial report was provided in the weeks following the accident and an update has now followed.
The reviews recognise that it is not practicable to rebuild nearly 200,000 separate slopes on both sides of the 15,000km network. They have praised the work that has been done to upgrade the infrastructure where possible.
Network Rail said investment in resilience work has almost doubled in the past decade, and new systems, technology, standards and practices have been introduced or updated. The reports also note that this work has accelerated further since the summer, with the aid of trials of new technology, while new route-based weather forecasts have been tried in cooperation with the Met Office. Network Rail has also published its Environmental Sustainability Strategy, a plan to reduce carbon emissions and help tackle climate change at its root, rather than only dealing with its effects.
Network Rail has conceded that its new reports show that there is more that can be done, and more than 50 recommendations will be considered.
Network Rail's safety and engineering director Martin Frobisher said: 'Heavy rain caused ground slips on many occasions last year and although tragic accidents are thankfully incredibly rare and none other than Stonehaven caused injuries, it is clear that extreme weather presents a significant challenge to the way we safely and reliably manage railway infrastructure.
'We do a vast amount to tackle the effects of climate change already but there is more to do. We established two independent, expert taskforces led by world-class specialists to investigate the problems we face and, crucially, to guide us as we make substantial improvements.
'We will carefully consider every single recommendation and develop a science-backed improvement plan, to target available money and technology in the best possible way. This is a real breakthrough.'
Reader Comments:
Views expressed in submitted comments are that of the author, and not necessarily shared by Railnews.
Many years ago now I knew a Railway Civil Engineer who was searching for a retired 'Linesman' who walked a certain set of track and knew where all the culverts and brooks were. The Western were having track problems and he thought if he could find the old man with his knowledge it would save a lot of time and money. I don't know if he ever found him. But from that conversation it would appear that maps detailing that sort of knowledge didn't exist. Do they now ?