Posted 22nd February 2021 | 5 Comments
Union claims rail renationalisation is moving ahead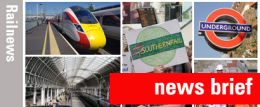 Updated 11.15
RECORDS at Companies House show that transport ministers are taking steps to renationalise more train operators, according to a rail union.
The RMT is demanding that the process is stepped up, following a series of 'strategic changes' which it says have been made to the structures of a a number of shell 'Operator of Last Resort' companies in readiness for them to take over at South Western Railway, c2c, CrossCountry and Great Western Railway.
Transport for Wales became publicly owned on 7 February, while the DfT has been negotiating the terms for ending the South Western Railway and Avanti West Coast franchises. Others are continuing for now under Emergency Recovery Measures Agreements, through which the DfT collects all revenue and pays the operators' costs. The operators are also receiving a management fee.
RMT general secretary Mick Cash said: 'It's now clear that the final preparations for the public takeover of Britain's failed franchise system are now in place and RMT says the Government should stop dithering and get on with it.
'All the operators are now effectively public operations anyway with the taxpayer taking responsibility through a network of management contracts from which the operators extract a profit for doing nothing. The final moves to full public ownership would be a mere formality.
'We should cut out the middleman, end the failed privatisation experiment and reinvest the private profits in a green railway fit for the future.'
The Department for Transport told Railnews: 'We are committed to replacing the complicated franchising system with new railway contracts that will deliver better journeys for passengers.
'Whilst we are engaging with operators, OLR shelf company names are being updated as a small part of sensible contingency planning to protect vital rail services.'
Reader Comments:
Views expressed in submitted comments are that of the author, and not necessarily shared by Railnews.
Looks like we are heading back to what British Rail was like before things changed with train operators and rail franchising in the UK.

A prominent rail commentator has been saying that the efforts to privatise have been "pretend capitalism" for years.

There are clear advantages in privatised operations ( innovation, enterprise, investment sources, etc, ) but only in those services that can compete with one another ( most intercity and long distance eg. ) , so as to give effective accountability.

Other types of operation ( natural monopolies with capptive markets , eg, commuter / short distance ) would be better off in the public sector , managed through local direct democracy .

Nationalisation, on the national scale is ,as was apparent before 1994, on too big a scale to have meaningfull accountability , whilst investment is only available at the whim of the Treasury.

The Railway in the Future depends on numbers of passengers, where they are travelling, Rail Fares and Government Funds. From my contacts, there might well be considerable less travel into London but more Commuting into big towns and smaller cities. Firms now seem to want offices that are outside of London for a variety of reasons. Pity Rail can't get involved in the Parcel Industry now its seeing such huge growth as well. Brexit and Covid are having such a profound effect on all aspects of life, that no-one can plan for anything at the moment.

This is bad, bad news! It means railway fares are going to jump like mad! Also I can remember, just how bad BR was!