Posted 19th February 2021 | 5 Comments
RMT strike ballot is 'wrong', says ScotRail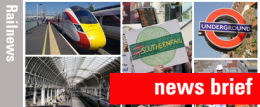 A STRIKE ballot of ScotRail conductors has been launched by the RMT in a dispute over pay, but the company has condemned the vote, saying that such a move 'is wrong for staff at a time of financial crisis for the railway'.
ScotRail pointed out that all jobs have been protected, with no one being furloughed or affected by cuts to their basic pay, but it is accusing the RMT of 'an attempt to force an increase in overtime payments'.
ScotRail operations director David Simpson said: 'The RMT is jeopardising the jobs of thousands of railway workers.
'Strike action over increases in overtime payments would be wrong for staff and passengers when the railway faces the biggest financial crisis in its history and is almost entirely reliant on emergency taxpayer and public support to pay wages and keep people in jobs.
'Industrial action will only result in further questions about the justification for the funding that we are receiving and negative reaction from our passengers, which puts jobs at risk.
'Rather than creating division and making the railway a less attractive option for passengers, we need everyone to work together to rebuild ScotRail and create a more sustainable railway for the future.'
The RMT has not yet responded to ScotRail's latest comments, but the union's general secretary Mick Cash has previously accused Scottish ministers of 'blocking' pay negotiations.
The ballot of conductors will continue until 11 March.
Reader Comments:
Views expressed in submitted comments are that of the author, and not necessarily shared by Railnews.
Ordinarily would criticise the RMT for this, but given the whopping 4.1% pay rise (scrounging majority tory) MPs have just awarded themselves, good on the union.

That said, at a time the country is financially on it's a---- the pragmatic approach the RMT should be taking is reach arrangement with minister Heaton-Harris MP & the two devolved governments for an alternative to a pay rises - perhaps a look at conditions, travel benefits, reduction in shifts or working week - that would cost far far less.

As the for the vulture operating company, Abellio, their parent company NS was caught out 5 years ago moving their bulk of their Dutch Railways business to Ireland, paying half the corporation tax than in their home state. They aren't short by any means.

Many franchises have in recent weeks recruited scores of pointless non-jobs from the random job title generator... I mean... what does a Corporate Social Responsibility & Media Executive do for £47000-£65000 a year? That is why we are broke - too many franchises, duplicating 1000s of £80K non-jobs.

Ah, the world is slowly getting back to normal. Back to vehemently disagreeing with Mick Cash Grab. Maybe ScotRail should agree to the increase Mick and the RMT want, then lay off half their employees as being unnecessary in this time of greatly reduced travel.
Of course why should the RMT executive care if their cannon fodder lose money & jobs, they'll still get theirs.


Can't the RMT see they have lost all power in calling rail strikes. The Covid pandemic has shown that virtually everyone can work from home when necessary using Zoom, a Mobile and a Laptop. The Country could weather any National Rail strike without blinking and eye, unlike in the last decades when Rail was essential.

Yes it's very, very wrong! Asking for price raise right now, is just not right! If they did go on strike, even less people would use the rail network. Lots of people, that have already stopped using it, will never use it again! Since they, will always work for home or now a car owner!