Posted 11th February 2021 | 5 Comments
ORR's London-Cardiff open access rejection could be challenged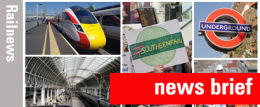 PROPOSED open access services between London and Cardiff have been turned down by the Office of Rail and Road, but the decision could face a legal challenge.
Grand Union Trains had wanted to run seven daily return trains from Cardiff Central in December and also serve Swansea and Carmarthen from December 2023, but the ORR has decided that the additional services do not pass the 'abstraction of revenue' test.
If passengers were to be diverted to Grand Union, the lower revenue earned as a result by GWR's existing South Wales services would ultimately be a cost met by the Department for Transport.
The ORR said: 'At this time, and taking account of the pandemic's impact on railway finances, we consider the passenger benefits would not outweigh the significant negative impact on public funds that this might have.'
Grand Union Trains managing director Ian Yeowart said the decision was a 'shock'.
He continued: 'We are not going to accept the decision as it is because it is not right. Our lawyers are looking at it to see how we progress.'
Reader Comments:
Views expressed in submitted comments are that of the author, and not necessarily shared by Railnews.
Is there any idea how a Class 91 would cope with the Steventon Bridge, and it's dodgy OHLE? A Class 91 cannot lower/raise it's pantograph on the move unless it slows to 20mph, it does not have diesel auxiliary engines, nor is the pantograph or locomotive designed for such a tight OHLE clearance.

If that happens. Then what about reintroducing the London Euston-Blackpool North service that Grand Central was intended to operate the new open access service. Which got cancelled because of the Coronavirus pandemic. Could that also happen from next year. Or in few years time.

Terrible decision, the Great western service from South Wales to London as been one of the most expensive in the country to use and it frequently runs late / cancelled trains. So what as happened to competition to give passengers a choice and better service.

The pre pandemic service was not satisfactory. additional operator services from Cardiff and later Swansea would be welcome and may make the national operator improve the service. South Wales main line was not electrified and we have not seen the promised faster services and a competitive market place may do something. It seems any increase in service levels are stopped by The Welsh Government or other regulation bodies.

It seems a route such as this is well suited to commercial , private sector competition, although there are a good number of passenger operations that are not.

The real problem is one that existed in the franchising years and still does : under the existing structures, services have to compete on a non - level basis , with differing levels of subsidies and of regulation. Best to treat all operators on a given route equally.