Posted 3rd February 2021 | 6 Comments
Disruption set to continue after landslip near Rugby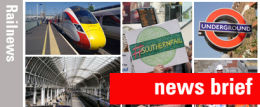 TRAIN services on the West Coast Main Line between London and Rugby are expected to be disrupted until mid-February after the landslip at Hillmorton, just south of Rugby.
An Avanti West Coast driver reported a dip in the track on 27 January, and that the ground appeared to be moving.
As Network Rail engineers moved in to deal with the problem, trains were diverted to the alternative but slower route via Northampton, and London Northwestern has suspended its London to Crewe services to provide more capacity on the Northampton line.
Avanti West Coast trains will now be making additional calls at Nuneaton, Tamworth and Lichfield Trent Valley, and AWC has warned that journeys could take between 15 and 30 minutes longer.
Gus Dunster, who is executive director, operations, at Avanti West Coast, said: 'Working closely with London Northwestern and Network Rail we've been able to quickly add extra stops at Nuneaton on services between London Euston and Liverpool Lime Street. Services between London Euston and Manchester Piccadilly will also call additionally at Tamworth and Lichfield Trent Valley.'
Network Rail's route director James Dean added: 'We are working around the clock rebuilding the embankment – this is a major piece of work and we are aiming to reopen the lines as usual in mid-February. This landslip was caught early thanks to an Avanti West Coast driver. His catch has meant our teams have been able to get in and prevent a much worse slip.'
Reader Comments:
Views expressed in submitted comments are that of the author, and not necessarily shared by Railnews.
Trees and vegetation soak up water and can hold the soil together which stops erosion and land-slips. The real problem is management. Dead or dying trees need removing. And especially drains and culverts which can get easily blocked leading to rainwater not draining away but building up and under-mining soil. When water freezes it breaks up rocks and soil as well leading to more instability.

Landslips seem to have become a lot more common since our linesides have been left to become forests. I remember a Network Rail consultant report a few years ago, which suggested that trees can cause issues with drainage and ground heaving in certain locations (aside from the leaf fall problems in autumn and disruption from trees felled by winter storms).

There seems to have been a resurgence in lineside cutbacks since then, but they are now dealing with mature trees. The removal of these is a lot more disruptive & costly, as well as leading to objections from local communities on environmental grounds.

It's a shame that BR took the decision to stop most lineside vegetation management to improve their bottom line. It was always going to be a debt that would have to be paid eventually and now we are doing so with interest.

Wetter climate so embankments are more saturated, and embankments are getting older, so unsurprising the problems are getting worse. In particular, most embankments weren't designed (as happens nowadays) and at the time the science of soil mechanics was simply not known about.

No, they are becoming more frequent, I suspect due to a combination of asset age, more intensive utilisation and more onerous environmental conditions.

Is it my imagination but landslips seem to be coming a lot more common. With the advances in technology, monitoring and funding, I would have thought Network Rail would be on top of this problem to a large extent.
[Not your imagination, I suspect. See the forthcoming February edition of Railnews for a report on the numerous incidents which have occurred since mid-January alone.--Ed.]