Posted 5th January 2021 | 6 Comments
Highways England is 'finishing off what Beeching started'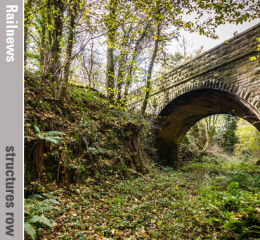 PLANS by Highways England to demolish more than a hundred structures on disused railways have been condemned for potentially preventing future railway reopenings.
Responsibility for non-operational railway land was transferred to the Department for Transport's Highways Agency and then to Highways England after the British Railways Board had been finally wound up in 2013.
Many structures, particularly bridges, must still be maintained for safety reasons, even though they are no longer on active railway routes, and Highways England is currently planning to remove 134 of these structures to reduce the risks they present.
But the plan has been criticised by campaigners because it could make future reopenings less likely and also block heritage trails used by cyclists and walkers.
The campaigners say Highways England has already been infilling some bridges since it took over responsibility for the Historical Railways Estate. One of them, at Chilcompton in Somerset, has blocked a future extension to a line operated by the Somerset & Dorset Railway Heritage Trust despite, it is claimed, Mendip District Council having a policy that protects the former trackbed.
Attracting an annual budget of around £10 million, the HRE is generally inspected annually and repaired on a 'reactive' basis, maintenance being carried out only where it is needed for safety reasons. In a 2016 report Highways England made clear its preference to 'significantly reduce the level of liability and risk to the HE and DfT' by stepping up demolition and infilling. The number of structures within the Estate would be reduced by between 10 and 15 per cent, or up to 480 structures.
One campaigner has described these plans as 'finishing off what Dr Beeching started'.
The HRE Group, an alliance of engineers, cycling campaigners and greenway developers, maintains that no assessment is being made of the strategic value of the affected structures for future transport use. It also alleges that 'attempts are being made to infill most of them under permitted development powers to prevent scrutiny through normal planning processes'.
Highways England said: 'To maintain the safety of communities living near to Historic Railway Estate structures, and the drivers who use the roads that cross them, we are planning to infill 115 bridges and remove 15 structures over the next five years.
'Most of the bridges earmarked for infilling are over 100 years old and were never designed to carry the weight of modern traffic.
'Local highway authorities have responsibility for applying weight restrictions, closing the roads, or restricting traffic. Around 200 of the public road bridges managed by HE/HRE have failed their most recent structural assessment (BD21) but haven't had any restrictions implemented. Therefore, our planned infilling is the safest and most appropriate option and will maintain access across the structure.
'Ten of the 15 removals are abutments which had their bridge span removed several decades ago and no longer serve a purpose.
'We've contacted all local authorities affected to advise them of our plans and to see if they have any use for the structures. In addition, we have arranged for seven structures to be transferred to local authorities which aspire to use them for cycle routes.'
Reader Comments:
Views expressed in submitted comments are that of the author, and not necessarily shared by Railnews.
The proposal to demolish these rail bridges would in many cases prevent the desirable extensions to FOOT/CYCLEWAYS and HERITAGE RAILWAYS.. UK Government policy is to encourage outdoor activities and health of the Nation. This is to be encouraged by the provision of proper facilities, especially in the present circumstances of climate change and the Covid pandemic.

I can see no benefit to anybody in demolishing these historic structures.

It would be a travesty to infill many or most of these structures and prevent future development of near perfect cycle / walking routes.
This also includes the potential removal of abutments where the bridge structure it self has been removed.
Many of these could be converted to foot / cycle path bridges at very low cost when using the existing abutments. The costs would explode if the abutments would have to be rebuilt.

Another possibility would be partial infill whilst maintaining a limited cross section foot / cycle path. This could be done with a very limited cost increase and still maintain access to the paths for future use

Dr Beeching was doing a job he was given to do by the government of the day and was thus was made a scapegoat for their policies.



I was an erarly 20-something when the two Beeching reports were published ( 1963 and 1965), and noted that the proposed closures seemed to be assessed on a standard model - a standard saving per mile for a particular type of infrastructure (single track, double track secondary main ,or 3 / 4 track trunk main line ). The reality was that costs varied for a host of reasons, including the costs of bridge maintenance , as outlined above ; the upshot was that the costs saved were a lot less than was expected.

It was a pity that ( seemingly), these reports came just before the emergence of benefit / cost analysis , which takes a wider range of benefits and costs than just cash income and expenses into consideration.



But Dr Beeching killed our railways which was a absolute disaster for the UK's railway community and society. Why did he closed so many railway lines and railway stations and cut off communities that have been affected by his disgraceful actions. He shouldn't of got the job in the first place and the railways would of been intact and saved till this day.

I do hope that the government can bring back life to some of the railway lines and to reconnect it with the community who desperately needs the railways back. Especially the East-West Rail link.

Dr Beeching will always be a murderer of the UK's railways. So happy that he's not here today.

[The questions you ask need some detailed answers. Perhaps some Railnews readers will oblige.--Ed.]