Posted 15th December 2020 | 6 Comments
Hitachi unveils plans for battery-powered Intercity Express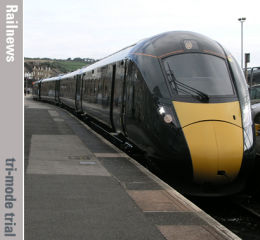 THE first intercity train in Britain to use batteries is to be developed by Hitachi and Eversholt Rail, for trial service on the Great Western Main Line.
The train will be a conversion of an existing bi-mode GWR Intercity Express, and the result will be a five-car unit which will be able to use electricity from overhead lines, diesel fuel or battery power.
Hitachi says adding batteries will offer fuel savings and carbon emission reductions of more than 20 per cent, and will also be a first step towards a completely battery-powered intercity version by the late 2040s.
The first experimental unit is intended for service on the route between London and Penzance, most of which is not electrified.
It is expected that the batteries will be used when the train is calling at stations and travelling on non-electrified lines in urban areas, reducing noise and improving air quality.
The battery pack will be developed by Hitachi, drawing on knowledge from Japan and created at the Hyperdrive Innovation base in Sunderland, which is a partner with Hitachi.
Rail minister Chris Heaton-Harris described the trial as 'an exciting partnership to develop technology that can make rail travel more sustainable,' while Hitachi Rail's UK & Ireland country lead Jim Brewin said: 'This partnership is an exciting opportunity to unlock new greener trains for passengers, reduce running costs for operators and cut carbon. At Hitachi Rail we share the UK's ambition for a net zero emission future. Britain is in a unique position to become a global leader in battery trains.'
GWR interim managing director Matthew Golton added that the operator was looking forward 'to working closely with both Hitachi Rail and Eversholt Rail on this trial'.
A different type of tri-mode unit has already been unveiled for service on local routes, again on GWR, which received the first example of a Class 769 unit for tests during the summer. This is a conversion of a former Thameslink dual-voltage Class 319 unit which has gained diesel engines, and so in this case the three modes are 25kV AC, 750V DC and diesel. This project has been sponsored by Porterbrook Leasing, which will eventually provide 19 Class 769 'Flex' units for service between Reading, Redhill and Gatwick Airport, and also on the Henley and Marlow branches.
Reader Comments:
Views expressed in submitted comments are that of the author, and not necessarily shared by Railnews.
It will be an advance to have trains that can utilise electric catenary for the mainline part of a service, and go on "beyond the wires"to a wider range of destinations ( Euston - Barrow, Euston - Dumfries, K'sX - Grimsby, K'sX - Middlesbrough, Paddington - Carmarthan, and so on ).

The question then arises, is this achieved better through auxiliary diesel engines, or by modern batteries ( Fuel cells are rather different, at least because of their capability to supply power for a whole journey ) , in terms of both initial and maintenance costs. Also, which option would be the "greenest"overall ?

That does sound really good. What about the Class 800 that it could also have batteries fitted that are used on GWR. And maybe fit batteries onto LNER Azuma Class 801, Hull Trains Class 802 Paragon and Transpennine Express Class 802 Nova 1.

With Hitachi to manufacture the Class 803 for East Coast Trains, Avanti West Coast Class 805 & Class 807 and East Midlands Railway Class 810. Which they could have batteries fitted if necessary. And the Class 385 ScotRail EMUs may also have batteries fitted to operate on short distance non-electrified routes.

I felt that the late 2040s was a long time too!

I have been researching these trains on the Internet and there is some interesting stuff out there.

The article [which article?--Ed.] says this is a trial and running to Penzance would be difficult because of the distance.

I think Hitachi and Hyperdrive will probably make battery packs and diesel engines interchangeable, so different routes might need say one diesel and three battery packs say.

If the battery packs had an energy profile like the diesel engine and worked with the same control inputs, once the system works with any combination, it would just be a matter of finding which combination fits which route.

Once any combination of diesels and batteries works as it should, it should then be a case of rolling out the batteries.

I think the 2040 date is if it all goes wrong. I would expect after a successful trial, we'll see a much better estimate of the date.

[Hitachi is not suggesting running all the way from London to Penzance on batteries alone! As our report says, batteries will be used initially for station calls and when running through urban areas. If the batteries run low, diesel would be the fallback option.--Ed.]



I have always believed that Batteries are the way forward, and will avoid very expensive and unsightly gantries all over the Country. Battery trains will be 'go anywhere' train and therefore exceptionally flexible, - and don't have to stop when the 'wires' finish.

There is no reason to wait till late 2040s for battery-powered intercity versions, hydrogen can be used now or within a few years, also diesel trains are suppose to be banned in 2040 unless diesel hybrid versions will still be allowed, petrol and diesel cars and vans will be banned in 2030 but hybrids in 2035. And what happens if improvements to batteries slow ? Moore's Law in computing, computers doubling in power every 18-24 months is now every 3 years.