Posted 14th December 2020 | 1 Comment
'Only luck' prevented accidents at 'poorly engineered' level crossing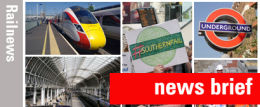 Updated 11.45
A REPORT into two near-collisions at a level crossing in rural Norfolk has revealed that the track was contaminated with leaves, while the wheels of new trains on the route were only making contact in a 'narrow band' on the surface of the rail. Network Rail and Greater Anglia say they have 'worked tirelessly to understand how and why the incident occurred'.
The barriers at Norwich Road level crossing near New Rackheath, between Norwich and Salhouse, lifted as a passenger train from Norwich to Sheringham was approaching on 24 November last year. Two cars crossed the line, and the second only avoided a collision with the train by less than a half a second.
The investigation found there was contamination of the rails caused by leaves and atmospheric conditions. This contamination had not been removed because there were no railhead treatment trains on the Norwich to Sheringham line at weekends.The contact between the wheels and rails was electrically weak, and so the crossing equipment misinterpreted the position of the train.
Chief inspector of rail accidents Simon French said: 'All too often the interaction between road users and the railway at level crossings leads to incidents and accidents. In many cases the actions of the road user are the immediate cause, but in this alarming event, deficiencies in the way the railway equipment operated placed two car drivers, and the people on a passenger train, in deadly danger through no fault of their own.
'Our investigation found that the installation at Norwich Road level crossing was a poor piece of engineering which had been in use for several years, and only luck had previously prevented an accident. A change in the type of train using the line exposed a weakness in the way that the crossing's electronic control equipment was configured.'
RAIB has made three recommendations addressed to Network Rail concerning the planning of autumn railhead treatment, guidance on the introduction of new trains. and the configuration of signalling equipment. The RAIB said it had also identified two 'learning points' concerning the investigation of incidents and the process of designing signals.
Simon French concluded: 'Lessons from the trial of the crossing equipment in other locations, and from incidents involving the same equipment in service, had not been applied to the crossing at Norwich Road. It is important that the railway industry learns from this incident, and makes sure that it has effective processes to transfer such learning to where it is needed.'
In a joint statement, Greater Anglia managing director Jamie Burles and Network Rail Anglia route director Ellie Burrows said: 'We have worked tirelessly to understand how and why the incident occurred, and how we can make the railway safer for those working or travelling on trains or using level crossings.
'The RAIB findings of contaminated tracks and their impact on the rail-wheel interface is consistent with our own detailed investigations, which have helped us understand how this incident occurred and led us to a series of actions in advance of any recommendations.
'These actions include installing new track circuit treadles on the approach to the crossings that provide extra safety protection and enabled us to remove speed restrictions. We're also cutting back trees and vegetation next to 26.5km of track to help prevent leaf fall that can lead to contaminated tracks and track circuit failures.
'In addition, we have been proactive in increasing our cleaning regime for this autumn.'
As a further precaution, Greater Anglia said it will be 'actively monitoring' train wheels for contamination and undertaking any necessary cleaning.
Reader Comments:
Views expressed in submitted comments are that of the author, and not necessarily shared by Railnews.
I have difficulty in understanding how the railway has escaped prosecution under the Health & Safety at Work Act, given that this type of example has been a problem for many years. Treadles were required, and installed, at similar locations certainly since the 1980s, to act as a failsafe remedy when the electrical equipment alone was not sufficient, especially on a Monday morning. This incident is one which gave rise to a foreseeable risk of death/serious injury, and if rail head treatment was regarded as necessary on weekdays, then why not at weekends?