Posted 22nd October 2020 | 5 Comments
Transport for Wales to be nationalised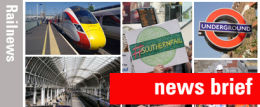 Updated 10.43

THE Welsh Government has announced that the Transport for Wales concession which has been run by KeolisAmey since 2018 will be handed over to public ownership, in response to sharply lower revenues caused by the Covid-19 pandemnic.
Day to day rail services will become the responsibility of a new publicly owned subsidiary of Transport for Wales, which includes a new partnership between Transport for Wales, Keolis and Amey.
The minister for economy, transport and North Wales Ken Skates said: 'The last few months have been extremely challenging for public transport in Wales and across the UK. Covid has significantly impacted passenger revenues and the Welsh Government has had to step in with significant support to stabilise the network and keep it running.
'We have decided to transfer of day to day rail services to a new publicly owned subsidiary of Transport for Wales.'
He continued: 'In Wales we continue a partnership approach between TfW and Keolis Amey as we work together to protect services for the Welsh public, safeguard jobs and secure the important Metro projects we have been working so hard on over the last few years.'
Deputy minister for economy and transport Lee Waters added: 'There are no easy answers to the challenges we face in rail and in public transport over the next few years – passenger numbers have fallen and there will be difficult days ahead as we navigate through the challenges of Covid.
'We are bringing the Wales and Borders service into public hands because it is a vital asset, critical to the future of our economy and our communities.
'I want us to maintain our ambition for a high quality and integrated public transport system with modal shift at its heart over the next few years and I believe that today's announcement is vital in helping us do that.'
KeolisAmey confirmed it had reached an agreement with TfW which will lead to 'a new financing and operational model, the details of which will be finalised in the coming months'.
KeolisAmey Wales chief executive Kevin Thomas said: 'Our partnership with TfW will always have the passengers and the communities we serve at its heart – finding the right solutions to improve services across Wales and the border areas.
'In light of Covid-19, we recognise the need for Welsh Government to have a sustainable way forward for delivering its ambitious objectives for rail and we are pleased to have agreed and put in place robust principles as we work on the details of a new agreement.
'Keolis and Amey are determined to see improvements delivered, and to play a significant role in the transformation vision, adding value through our international experience and expertise. We also recognise this as an exciting opportunity to demonstrate the additional skills we can bring to wider public transport projects across Wales in the coming years. We're committed to our partnership with TfW and the next phase of this exciting transformation.'
RMT general secretary Mick Cash said: 'RMT welcomes this decision by the Welsh government and believes this is the best way to protect rail services in Wales. We will also be seeking urgent assurances that railway workers jobs and conditions will be fully protected and the railway will be properly funded.
'RMT is also seeking reassurance that rail infrastructure maintenance will also continue to be provided by the public sector as it was under Network Rail.'
Reader Comments:
Views expressed in submitted comments are that of the author, and not necessarily shared by Railnews.
I could be wrong, but I thought the TfW franchise was a manager/contractor type arrangement, where the manager (TfW) pays the contractor (Keolis-Amey) a 4-weekly fee to operate the service and not the 'winner takes all' type franchises that existed previously. If that is so then full nationalisation of the service wouldn't be that big a step.

Surprise, surprise - when the going gets touch, the franchisee gets going. Welsh railways should be run as a nationalised company with a carve out for cross-border services run by English TOCs.

How much has this franchising nonsense cost the railways since the failure of the first franchisee, Connex, all those years ago?

I wonder if the full nationalisation of Welsh railways will subsequently allow an objective comparison with the performance of the outsourced 'management contract' model being adopted by the Conservatives in England?

So Keolis (French) and Amey (Spanish) are unable to sustain their profits, this year, from running Welsh railways?
I thought the idea was that these outsourcing companies took the risk of fat profits from passengers in Wales in most years with the risk that there may be one or two lean years?
It seems, as ever, that as soon as a cloud apears on the horizon they secure their profits and slink away, leaving the taxpayer to fund the losses. If the Welsh Government stood up for the people it represents, it would demand repayment of all earlier profits to cover the losses that KeolisAmey is walking away from.