Posted 6th October 2020 | 4 Comments
Protests as operators refuse Advance ticket refunds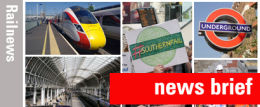 PASSENGERS with Advance tickets who cannot make booked train journeys because of new Covid restrictions in parts of Britain are being told that no refunds will be paid.
Although in many cases the details of a journey can be changed for a £10 fee there is no certainty about future travel dates at the moment either, while in some cases the frustrated travellers will have no reason to make the same trip at some time in the future.
The latest ruling has come just after the Government had said that there would be no compensation for railcard holders who have been unable to travel this year.
Transport watchdog Transport Focus has warned that the ruling over Advance tickets could damage confidence in rail.
Chief executive Anthony Smith said: 'Passengers no longer able to travel because of local lockdowns shouldn't be out of pocket for doing the right thing. If they are asked not to travel, it seems unfair that they will lose the money for pre-booked journeys.
'While the government continues to provide high levels of support to make sure the day to day railway keeps operating, advance tickets must be made more flexible or the railway will lose both custom and goodwill.'
The Rail Delivery Group has remained unmoved. It told the BBC: 'Significant taxpayer funding continues to help maintain rail services which is supporting the country's recovery from the pandemic and, after careful consideration, the government does not intend to allow refunds for non-refundable advance tickets.'
The Department for Transport also defended the decision, saying: 'With fares revenue having fallen to less than 5 per cent of pre-Covid levels, we must ensure we are fair to taxpayers and focus investment on maintaining services, to enable social distancing and support our economic recovery.'
Reader Comments:
Views expressed in submitted comments are that of the author, and not necessarily shared by Railnews.
English Heritage have just extended my yearly membership (and everyone else's) by 6 months because I haven't been able to use it this year due to lockdown. How about a 6 month Railcard extension ?

I have only used mainly local trains during the past couple of months where, like all senior citizens, bus and train travel is free. I have not purchased an Advance Ticket since the middle of 2019 when I accepted the non-refund policy and other restrictions because of the low cost of the ticket. However, I think that in view of the ever changing travel conditions under COVID, both the government and operators should definitely be a little more lenient to help those who are suddenly barred from travelling. Nevertheless, perhaps the answer is for train operators to stop selling Advance Tickets for the remainder of the pandemic
[These are no longer matters for the operators, as franchises have effectively ended.--Ed.]

Just not willing to travel by train now... Don't want to pay for ticket then end up losing my money! Right now, using my car to get just about everywhere! Since, if I don't use my fuel one day, I use it another...