Posted 15th September 2020 | 4 Comments
DfT declares war on railway graffiti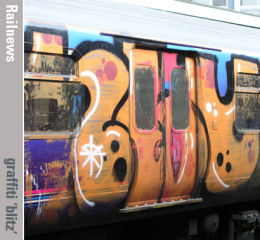 TRANSPORT secretary Grant Shapps has announced a new campaign to tackle the 'blight' of graffiti on railways and roadsides.
In a letter to the rail industry, the transport secretary has called for long-term plans to tackle the issue in addition to action which has already been taken, including a review of response times so any graffiti damage is dealt with quickly.
Network Rail has already allocated an additional £1 million to carry out a 'graffiti blitz', on top of its annual £3.5 million programme of anti-graffiti measures.
The graffiti 'artists' often place themselves at serious risk when they trespass on railway property. The bodies of three young London men were found on a line in Brixton early one morning in June 2018. They had apparently just been 'tagging' a bridge nearby and it is thought they could have been caught in the slipstream of a passing train. In 2007, two other men were seen by security guards at Barking Underground depot in east London. They tried to escape by running across the electrified tracks, and were killed when they were hit by a District Line train.
Grant Shapps visited London Bridge on 14 September to see the result of clean-up work carried out by Network Rail's southern graffiti taskforce.
Sometimes murals are used to occupy brick walls. Mr Shapps also visited a railway arch mural created by street artist Jimmy C. in memory of the victims of the London Bridge terror attacks. The series of hearts floating in space on Stoney Street is one of 100 murals produced by Jimmy C. and his fellow street artist Lionel Stanhope.
Mr Shapps said: 'The phenomenal efforts have been made throughout this pandemic to ensure our transport network is clean and maintained to the highest standards, helping keep people safe, and people deserve roads and railways that are not blighted by graffiti and vandalism.
'As we continue our focus on building back better as we recover from Covid-19, I want us to feel proud of our transport infrastructure and public spaces. Our extra investment to remove graffiti from our roads and railways means we can double our efforts to fight this issue and represents a positive step in the right direction.'
Rail services on the Isle of Wight had to be suspended for a while last week, when graffiti was found on the bodysides and windows of the only available train.
Reader Comments:
Views expressed in submitted comments are that of the author, and not necessarily shared by Railnews.
Really can't understand Shapps' logic in concentrating on graffiti, when presently here on the North, our 'go home early' half a job Northern Trains are abandoning the service after 22.30 when the normal last train should be 00.40.

DfT-run Northern Trains stated 'there is no money to run later trains', leaving thousands of key workers stranded. This at a time Northern Trains have just hired a pile of managers on £70K to £140K, with (non-)job titles from the random title generator.

Bothers me most that Shapps spent a fair few years living in Manchester, and will know what damage this mismanagement is causing.

Has Banksy ever been caught. I wonder why that the unknown artist hasn't even been caught whilst graffiti on trains and at stations.

It's long past time serious steps, including more severe legal penalties, were taken to combat this blight. Will this just be more talk, or will there be real action this time - including Shapps getting the government to introduce legislation to increase the legal penalties for this vandalism ?