Posted 7th September 2020 | 3 Comments
Graffiti vandals paralyse Island Line service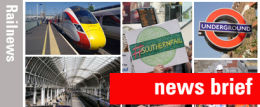 THE Island Line timetable was suspended on Monday morning, after the only serviceable train on the route was sprayed with graffiti. Passengers were being diverted to buses until the graffiti could be removed.
The Island Line was already hampered by a fault on a second train, and passengers had been warned that the usual half-hourly service would be halved until the end of service on Tuesday.
The present trains on the Isle of Wight were built by London Transport in 1938, and are set to be replaced soon by Class 230 trains from Vivarail, which are also conversions of former London Underground trains. However, their bodies date from 1978-80 and many of the components are new, including the on-board accessible toilets.
Reader Comments:
Views expressed in submitted comments are that of the author, and not necessarily shared by Railnews.
I don't understand why that such disgraceful youngsters do these things and cause such misery to people who rely on using trains and transport. And letting them get away with criminal damage. Disgusting.

One hopes the new trains have CCTV, with some low light cameras pointing out from the doors to catch these cretins.