Posted 6th August 2020 | 10 Comments
East West Rail takes new steps further east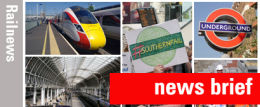 A BUSINESS case for improving train services between Cambridge, Ipswich and Norwich is to be developed by consultants on behalf of the East West Rail Consortium, as an addition to the plans for reopening the former Varsity Line between Oxford, Bedford and Cambridge.
Work to complete the section between Oxford and Bletchley is well under way. Trains already run on two sections of the route, between Oxford and Bicester and between Bletchley and Bedford.
The business case for east of Cambridge, known as the Eastern section of East West Rail, will be produced by consultants Steer. The East West Rail Consortium, whose members are local authorities, said the completed business case will be used to demonstrate to the Department for Transport the economic benefit of improving rail services east of Cambridge, including a new direct link between East Anglia and Oxford. Assuming that the business case is accepted by the DfT, the next step would be the development of a preferred rail infrastructure option.
Cllr Alexander Nicoll, the chair of the East West Rail Eastern Section Group and deputy cabinet member for transport on Suffolk County Council, said: 'Building a new railway connection would transform connectivity and journey times across our region and with the rest of the country. This would bring huge benefits to passengers and businesses, driving economic growth and creating opportunities for housing and new jobs. It will also go a long way to get people out of their cars, providing a greener more sustainable transport system.'
Reader Comments:
Views expressed in submitted comments are that of the author, and not necessarily shared by Railnews.
During the early years of privatisation, a TOC did indeed run a Bristol to Oxford service over a limited period ; my understanding is that the first generation dmu's ,with 75mph top speed, being used proved too difficult to path between 125mph HST's, and were taken off .

A modern version, using 100mph dmu's (of which nowadays there are several classes ), extended to MK too, ought to be a big success ( provided the Covid 19 problem gets solved, of course).

I wonder if there are any places between Bristol and Didcot that could do with a station, what with the housebuilding going on across the country.
Perhaps it would be possible to run an hourly service from Bristol to Oxford, continuing on to Milton Keynes?

The traffic potential between Liverpool, Manchester, Sheffield and the East Anglian centres of Norwich , Cambridge and Ipswich must be at least that of the EastWest line. Especially so if instead of a semifast class 158 service, with impending forcible train change at Nottingham , a faster, perhaps less frequent service of,say,5 car Meridian trainsets via Retford , the East Coast line and Peterborough were instituted. There are better ways to cater to the Manchester to Nottingham (and Leicester) potential too, but that is another story.

These cities need to be connected as soon possible but railing against the choices of the past is completely pointless. The building in Sandy took place in the late 70s/early 80s. I attended Sandy Upper School in the mid-80s which straddled the old track line and was built a decade before. At the time reversing Beaching style cuts seemed impossible and old-fashioned. Stuff happened, get over it. Lets get on with building an infrastructure for today fit for the next century not the 1860s.

The Felixstowe line needs to be completely doubled and electrifying should have been done years ago. And this electritfation continued right through to Birmingham in one direction and Didcot/ Southampton in the other. There is no other country in the world, that lets so much freight to be diesel hauled, as long as London gets all the money it does not care less about the rest of the population.

The Varsity line between Oxford and Cambridge should and must be re-opened in its entirety as soon as possible, the very thought of not having this rail link today between Britain's 2 historically world famous University Cities is totally unacceptable and even accepting the need for its closure back in the 1960's, the trackbed should have been mothballed for future use and not built on as is the case around Sandy!!

So Oxford and Cambridge to Norwich, but DfT insists on ending the Liverpool, Manchester and Sheffield to Norwich through service. Why? so many inconvenienced passengers inc. me

Although Beeching is remembered for closing lines and services, his initial prescription was for the railway to concentrate on what they did best, rather than try to be an "all things to all people" common carrier.

In context of EWR, this might mean to concentrate the available capacity on catering to the longer distance, strategic traffic flows, both freight and passenger, typically between East Anglia and points west of Oxford ( inclusive). Paralell short distance road journeys would still benefit from congestion relief.

[And, of course, Beeching did not recommend closure in his 1963 report. However, Oxford-Cambridge was not a route 'selected for development' in his second (1965) report.--Ed.]

Two of the ideas already proposed include an A14 Parkway station to the North of Newmarket and frequent tram-trains between Ipswich and Felixstowe. The second would obviously increase freight paths into Felixstowe.*
[*How?-- Ed.]