Posted 5th August 2020 | 2 Comments
Network Rail 'astonished' by level crossing misuse in Kent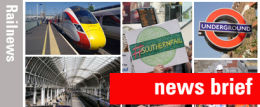 THE number of road users failing to obey the rules at a level crossing in Kent has 'astonished' Network Rail, with 13 drivers ignoring red lights and closing barriers in June and July alone.
Network Rail said the misuse at East Farleigh had caused four incidents, although it gave no further details, and the registration numbers of drivers breaking the law have been passed to the police. The crossing was converted from traditional swing gates to full-width barriers last year, and is controlled from a signal box nearby.
Kent route director Fiona Taylor said: 'I can't believe I've got to say this, but the flashing red lights are there for a reason, safety. There's no excuse for not paying attention to them and the fact that some drivers are even swerving round closing barriers – when a train is on its way – is just astonishing. They're not only putting themselves and others at risk but also getting a fine and points on their licences.'
British Transport Police Inspector Jonathan Pine warned: 'We take these incidents very seriously and we will prosecute anyone who runs through our level crossing lights. There are no circumstances where it is safe to go past flashing red lights and anyone who has dealt with the aftermath of an accident on a level crossing knows how terrible the results will be.'
Reader Comments:
Views expressed in submitted comments are that of the author, and not necessarily shared by Railnews.
Throw the book at them. Maybe 3 months in jail and a 2000 quid fine as a minimum.