Posted 20th July 2020 | 8 Comments
New plan for south west railways unveiled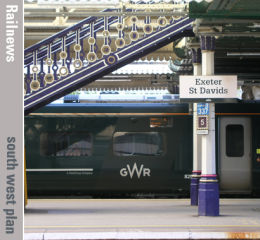 SCHEMES to improve the railway network in the south west of England costing a total of less than £1.2 billion are set out in a plan which has been sent to ministers today.
The proposals build on upgrades in recent years, which have included the introduction of half-hourly services on the Cornish main line between Plymouth and Penzance, and also on the branch from Truro to Falmouth Docks, with a crossing place being restored at Penryn.
The new proposals include reopening the former Southern main line between Exeter, Okehampton and Plymouth, redoubling the Southern route between Salisbury and Exeter and restoring passenger services to Minehead, Padstow and Fowey. A new link would be created across central Cornwall between Newquay, St Austell and Truro, with some trains continuing to Falmouth. The standard of service on the Tarka Line between Exeter and Barnstaple would also be improved by the Exeter-Okehampton-Plymouth scheme.
Two schemes for the Newquay area have already been shortlisted by the Department for Transport as candidates for development funding.
The authors of the report, Lord Berkeley and Michael Byng, say the costing methods are in accordance wiith the new industry standard, 'giving new confidence for funders and promoters'.
One of the report's authors, Tony Berkeley, added: 'Government's commitment to rebalancing the economy from the South East to the Midlands and North, most recently by the reported creation of a Northern Transport Acceleration Council with £6 billion funding, must also be applied to the South West, where a contribution of less than 1 per cent of the cost of HS2 would bring massive benefits to this region which sometimes feels much forgotten.'
The report also points out the Government's commitment to zero carbon by 2050. It continues: 'The improved rail services in Cornwall have shown very significant increases in patronage, particularly on shorter commuter journeys, and this must surely be the focus of future enhancements alongside resilience.'
Reader Comments:
Views expressed in submitted comments are that of the author, and not necessarily shared by Railnews.
In addition to Waterloo and the South Coast, another option for long distance services via a reopened Tavistock and Okehampton is to run some Paddington - Plymouth services via Westbury and Yeovil Pen Mill so can call at Exeter without reversal. This would also give better connectivity for Yeovil too, so not just benefitting the South West.

Years ago there was direct services from Brighton/Portsmouth to Exeter/Plymouth and I believe beyond to Penzance most were split at Salisbury thou, but still direct trains linking Bournemouth and Poole into the equasion would be better too.

I suggested the circular service to the various pressure groups and Devon Council about 3-4 years ago. Glad to see it has been officially recognised now. It would also be one of the great Tourist routes, more variety than the S&C. Coast, rivers, open moors, wooded valleys, cities, plus the various journey opportunities between the towns. Waterloo trains extended to/from Plymouth. All that and a diversion route as well. As the saying goes, a no-brainer.

Is the M5 motorway bridge over the Salisbury - Exeter line is wide enough for doubling the track?
If it is, the costs of redoubling will be modest compared with highway construction, plus the benefits in earlier comments.

I worked for BR for nearly 20 years, and I am now a westcountry railway historian.
The reopening of the Exeter-Plymouth line via Okehampton, is not focussed on it being an alternative route from Plymouth to London Paddington, (although it could provide that, if the route via Dawlish is disrupted).
Also, a west to east connection at Cowley Bridge Junction, would bypass Exeter completely.
The reopening of the Plymouth-Exeter via Okehampton route, would facilitate a service that would provide a plethora of destination opportunities, especially if it were to run as a, 'bi-directional, circular, Plymouth-Tavistock- Okehampton-Exeter- Dawlish- Newton Abbot- Plymouth, service.
The provision of a 'parkway' style station at Sourton, near Meldon, adjacent to the A30, would provide a transport communications hub, and bring towns such as Launceston, Holsworthy and Bude, closer to a rail link once more.
Okehampton & Tavistock would be put back on the railway map, thus reducing road traffic between Plymouth & Tavistock, and Okehampton and Exeter.
It would be a massive boost to business, and tourism.

The restoration of the Exeter - Plymouth via Okehampton lline seems to add better "connectivity" . Can anybody say how much time could be saved through routing Plymouth - Paddington Intercity trains via Okehampton , given a new west to east connection at Cowley Bridge junction , to the north of Exeter?

How about electrification to Exeter and Bristol ( third rail) ? With a switch over to the pantograph for Portsmouth - Cardiff services.Through services from Poole,Bournemth and Brighton to Exeter and Brighton without changing! That would be bto good to be true !! Connections from Poole Bournemouth to the west are pathetic! With a long wait at Salisbury or Basingstoke (where the connection is just missed!).