Posted 15th July 2020 | 1 Comment
Stobart leaves rail to concentrate on air in £1,000 sale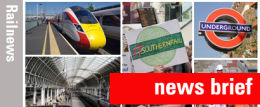 STOBART GROUP has sold its rail and and civils division to a German company for just £1,000, although up to £2.9 million more may be payable, depending on the outcome of one contract which is still in progress.
Stobart will now concentrate on aviation and energy infrastructure. The company had been expected to shed the loss-making rail and civils business, having said that it intended to do so by the spring of next year. The agreement includes the transfer of specialist plant and equipment, and there will also be a three-month 'Transitional Services Agreement' to keep administrative functions going to support Stobart Rail and Civils temporarily.
The transaction will involve an estimated loss of £9 million after costs, before any additional payments which may be received, and 188 jobs will be transferred. The buyer, Bavaria Industries Group, is an industrial holdings company which was founded in Germany in 2002.
It specialises in rescuing companies which are unprofitable by cutting their costs, developing new sources of revenue and preserving as many jobs as possible.
Stobart Group chief executive, Warwick Brady, said: 'In June we set out our strategy which will see the group focus its investment on our aviation assets, particularly London Southend Airport. The sale of the Rail & Civils business removes the obligation for the group to fund the expected ongoing losses of the rail business and is a first step in achieving our goal of focusing our investment on aviation.'
Reader Comments:
Views expressed in submitted comments are that of the author, and not necessarily shared by Railnews.