Posted 6th July 2020 | 4 Comments
More trains, but travel ban stays for now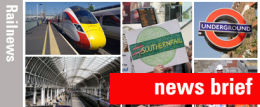 MANY train operators have reintroduced more of the pre-pandemic services which had been suspended, but passengers are still being told that they should make only essential journeys and that face coverings remain compulsory.
More people will need to travel to work, because most shops have been allowed to reopen in England and retail staff are returning to their jobs.
Robert Nisbet of the Rail Delivery Group said: 'As part of the safer travel pledge, rail companies are working together to keep people safe and help the economy get back on track by running more trains and boosting cleaning.'
The reduction of the minimum social distance from two metres to 'one metre plus' means that trains can now carry more people than before, although capacity is still reduced.
CrossCountry is running longer trains to increase safe capacity further and more routes are being served again, including Paignton, Glasgow, Aberdeen and Stansted Airport, as well as limited services west of Plymouth to Newquay and Penzance.
CrossCountry managing director Tom Joyner said: 'While social distancing remains a requirement, we are pleased to provide almost a third more capacity on many trains than we could in March, meaning people can be confident they can travel with us in comfort and safety. And with towns and cities that have not been served by us for many months again seeing daily services, the CrossCountry rail network is again open for business.'
A further increase in National Rail frequencies is likely later this month, and there is speculation that the present restrictions on train travel could also be eased to allow less 'essential' journeys soon.
Reader Comments:
Views expressed in submitted comments are that of the author, and not necessarily shared by Railnews.
As a life long user of trains and (up to Covid19) was a train enthusiast.I usual use a Senior Railcard for leisure travel and enjoy (ed) train travel up and down the country alone or with my wife for leisure.
At present the thought of using a train is not at all appealing.I enjoy a meal or modest drink on the train and used to find rail travel relaxing.I cannot see it being appealing (anymore than eating in a good restaurant, which I also liked to enjoy).The thought of obeying loads of rules (as essential as they are perceived to be at present) will kill the enjoyment and this appears increasingly insurmountable.The assessment of risk to the individual (ie. of catching Covid19 on the train) is difficult to assess and the numerous "scare stories" various sections of the media have peddled has not helped.
In conclusion, I cannot personally say when I would want to use a train.

While normality has not yet returned its surely time to stop the " don't use trains " messaging given how much usage has fallen together with revenues and the large numbers of trains that are running almost empty but could easily quadruple usage without breaking new social distancing rules.

The real disaster has been the failure to plan for a return of passengers under the new conditions which could have included replacing 2+3 seats with 2+2 seats thus removing the middle seat and widening the aisles!

While it seems London Overground longitudinal seating might be more appropriate given passengers don't face one another and their is a large space across the carriage and this seating might have been installed on innner surbuban trains where distances travelled is often shorter.

Good news to hear that TOCs are increasing capacity to help commuters but over the next couple of months, they must begin to look at ways in which to entice back those people who want to make "non-essential journeys" - i.e. leisure travellers. I appreciate that it is up to Grant Shapps and others in government circles to announce when it is perfectly safe to travel on public transport with, or without, a face covering. Nevertheless, many passengers may remain hesitant about boarding a train, so the TOCs must do their bit by, perhaps, reducing the cost of off-peak travel or suspending any penalty fare systems. Otherwise, it may take years, if ever, for passenger numbers to return to pre-pandemic levels.