Posted 30th June 2020 | 4 Comments
Naturalist's HS2 court appeal to go ahead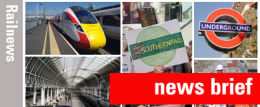 A NATURALIST who claims that building HS2 will cause irreversible destruction of ancient woodlands has succeeded in his bid to take his case to the Appeal Court. Chris Packham lost his bid to obtain an injunction and a judicial review in the High Court on 3 April this year. He maintains that the Prime Minister and his transport secretary failed to take environmental impacts properly into account when they gave approval for HS2, and that they also failed to have regard to the Paris Agreement on carbon emissions and climate change, and the 'carbon budgets' agreed by the UK. The appeal hearing has been arranged for 8 July.
Reader Comments:
Views expressed in submitted comments are that of the author, and not necessarily shared by Railnews.
So why is action taken against HS2 but not East West rail project that crosses HS2 in the same area of The Chiltern and there is plans for East West expressway along same alignment and don't forget lower Thames crossing!

It's time laws were introduced to prevent multiple applications for the same thing which has already been through court action!

Well why not, after all the country must be flush with money now having spent mere billions on Covid-19 so we can afford to waste more money on frivolous objections from one person who can't take multiple previous court rulings as an answer. What's a few million more quid from the taxpayer's pocket to indulge someone who probably won't spend a penny of his own money on this.


How come we don't see Packham taking out high court injunctions and judicial reviews for large road schemes which take out copious amounts of our woodland and agricultural areas The silence is deafening when it come to road building!