Posted 23rd June 2020 | 2 Comments
Social distancing in England cut to one metre minimum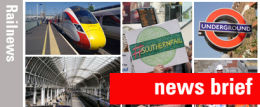 Updated 13.04

THE minimum social distancing restriction in England is to be cut to one metre, the Prime Minister has announced.
The change will come into effect on 4 July, and will have implications for train operating companies and Network Rail, who have worked for some weeks to mark out trains and stations in accordance with the two-metre rule.
Boris Johnson described the new rule as 'one metre plus', meaning that people should still keep two metres between themselves and others where this is possible. It is not yet clear what the effects will be on train capacities, but the Prime Minister said all public transport should 'still be avoided if possible'.
Rail Delivery Group chief strategy officer Andy Bagnall said: 'Reduced social distancing coupled with extra trains running from 6 July means space for more people to travel by train, so rail will be able to play an even bigger part in supporting Britain's recovery in the weeks ahead.
'As well as antiviral cleaning on trains and in stations, we are running longer trains where possible. In return, we ask that people avoid travelling at the busiest times of day if they can and bring a face covering to wear throughout their journey.'
Pubs and restaurants will be able to reopen with some restrictions, including the requirement to have all drinks and food brought to tables. Hotels and campsites, along with tourist attractions, art galleries, museums and libraries, will be able to reopen 'as long as they can do so safely'. Water parks and some other attractions must remain closed for now.
Places of worship will be able to reopen, subject to social distancing and a limit of 30 people attending weddings. Primary schools will be able to reopen in September.

Reader Comments:
Views expressed in submitted comments are that of the author, and not necessarily shared by Railnews.
Boris Johnson announced the opening of many types of venues like cinemas and restaurants and yet still told people to avoid using public transport !

Surely it's time to begin reducing the nonsense of almost empty buses and trains running at all hours at great expense and started getting people back onto public transport. While the opening of pubs without use of public transport brings the danger of drunk driving.

Given we would have had nearly 4 months to prepare for return to normality one would thought plans to alter train seating layouts like removing 3+2 to make it 2+2 could have been untakenwhile trains were empty and even conversion of some trains to London Overground longitudinal seating which removes close face to face seating and provides space for social distancing could have been made on inner city trains .

What difference in capacity will moving from 2 metres to 1 metre make to train capacity?
Have Your Say